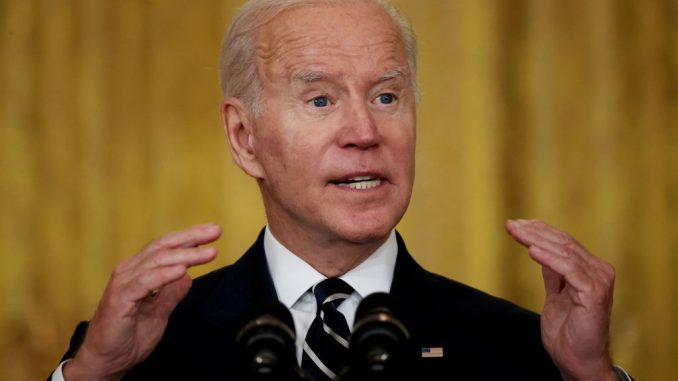 OAN Newsroom
UPDATED 1:13 PM PT – Thursday, October 28, 2021
Joe Biden unveiled the final framework of his "Build Back Better" agenda and continued to claim the bill would cost American taxpayers nothing.
"Over the next 10 years, it will not add to the deficit at all," he claimed. "It will actually reduce the deficit."
Biden detailed the compromise deal at the White House on Thursday, which includes universal Pre-K for three- and four-year-old children, subsidized child care and an extension of the larger child tax credit. It also focuses on climate change, expanding tax credits for clean energy initiatives.
"I don't want to punish anyone's success. I'm a capitalist. I want everyone to be able to, if they want to be a millionaire or billionaire, to be able to seek their goal. But all I'm asking is, pay your fair share," said Biden.
I ran for president saying it was time to rebuild the backbone of this nation – the middle class.

That's exactly what my Build Back Better Framework is going to do. pic.twitter.com/MQzwb2w5a1

— President Biden (@POTUS) October 28, 2021
The final bill doesn't include a previously proposed billionaire's tax, paid family and medical leave or a proposal to allow IRS surveillance of American's bank accounts. It also doesn't include any measures to address issues Americans are currently dealing with, such as the supply chain blockage, surging gas prices or the crisis at the southern border.
Economists have said spending trillions of dollars on Biden's social agenda will make the current inflation pressures worse. In the meantime, it's still unclear if this package will gain support from far-left progressives with Sen. Bernie Sanders (I-Vt.) saying on Thursday "it needs to be improved."