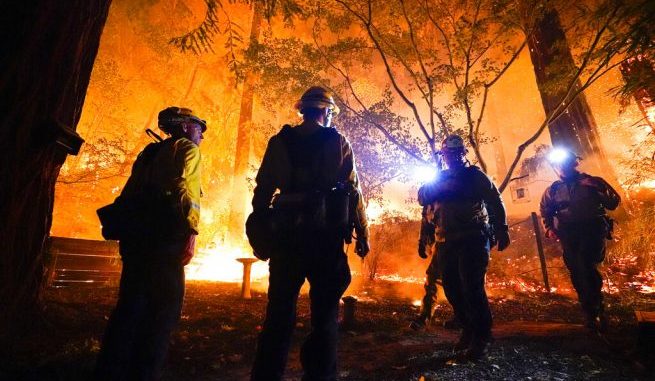 OAN Newsroom
UPDATED 10:45 AM PT – Saturday, August 22, 2020
Thousands of California residents have been forced to leave their homes as wildfires continue to spread across several parts of the state. On Friday, Governor Gavin Newsom announced the state is currently battling more than 560 separate wildfires.
This included SCU and CZU lightning complexes, which have burned roughly 600,000 acres. According to officials, these wildfires have even become larger than the state of Rhode Island.
"These two fires represent two of the top 20 fire largest fires the state of California has had to battle in recent memory, arguably in modern history," said Newsom.
At least six people have died and more than 100,000 residents are under evacuation orders. After one evacuee came home to nothing, she expressed these fires were like nothing she's ever seen.
"The sheriff's department told us we had to be out of here in a few minutes. We left and this is what we came home to today. I've never seen anything like it. The whole sky was red, orange. It was coming over the hill there and it was massive. I've never seen anything like it, and it only took a few minutes to get here." – Karen Hansen, wildfire evacuee
Meanwhile, smoke from these wildfires has amassed over roughly 600 miles, stretching into the Pacific Ocean and making California's air quality extremely hazardous in certain areas. Residents in Utah have also been advised to watch out for high smoke levels as winds blow the toxic fumes over the northwestern sky.
Hundreds of wildfires are generating enormous amounts of smoke in California today. Here, NOAA's experimental HRRR-Smoke model depicts how thick the smoke will be and how far it will travel from Aug. 20 – 22 in UTC time (which is 7 hours ahead of PT) #CaliforniaFires #FireWx pic.twitter.com/X0AamcKUbx

— NOAA Research (@NOAAResearch) August 20, 2020
Californians who have been forced to evacuate continue to feel uncertain, not knowing what will happen in the days to come.
"By tomorrow, maybe I'll know more, but pretty much I'm thinking we're going to lose the house," stated evacuee Steve Walsh.
Nearly 12,000 firefighters have been deployed, while 96% of California's fire engines are battling the blazes. The state has also received help from neighboring states, including Arizona, Oregon, Texas, Nevada, New Mexico and Washington.
Governor Newsom has thanked President Trump for his quick response during the crisis.
"There's not one phone call that I have made to the president where he hasn't quickly responded. Almost in every instance, he has responded favorably in terms of addressing the emergency needs of this state, through COVID and, of course, over at least the last year and a half that I've been governor as it relates to these wildfires. He may make statements publicly, but the working relationship privately has been a very effective one." – Gavin Newsom, Governor of California
He has also reportedly reached out to Australia and Canada for help with these fires.
"We've also reached out across the border into Canada for resources and support," added the governor. "Many of you up here recall, I think it was 2017, the support that we were provided and the support we provided in turn of some of the best wildfire firefighters in the world from Australia; we also have requests out for that talent as well."
These fires have injured at least 43 firefighters and civilians so far. Some of the newer fires remain zero percent contained.