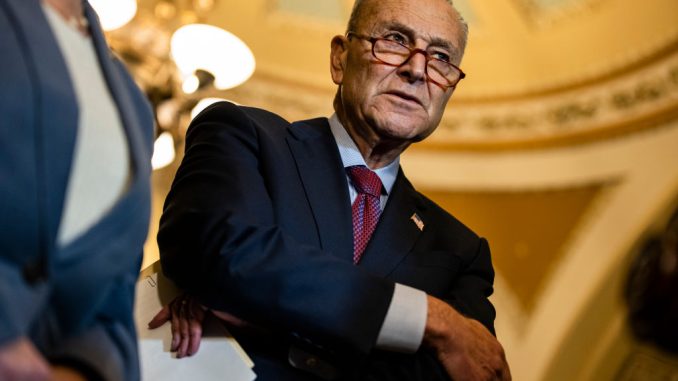 OAN Newsroom
UPDATED 9:56 AM PT – Wednesday, October 27, 2021
Senate Democrats have once again promised an agreement on the Build Back Better agenda. Senate Majority Leader Chuck Schumer (D-N.Y.) and his party members announced the progress at a Democratic luncheon presser on Tuesday.
A compromise within the Democrat Party regarding the spending plan has been announced multiple times throughout the past two months. However, Schumer and company wanted to assure Americans this proclamation would be different from previous announcements.
"No one ever told us, no one ever said that passing transformational legislation like this would be easy. But we are on track to get it done because it's so important and it's what the American people need and what they want," said Schumer.
The New York senator also wanted to stress the bill's positive reinforcement for hard work while increasing taxpayer funding to government programs.
Senate Majority Leader Chuck Schumer on the status of Build Back Better, "I believe we will get this done and get it done soon." pic.twitter.com/4MAL6oDXJ2

— Sarah Reese Jones (@PoliticusSarah) October 26, 2021
"The programs being discussed will help restore that fundamental promise that if you work hard and you play by the rules, you can have a better life for your family and we need to strengthen vital services like Medicare relied on by millions for the long term and to make healthcare more affordable to seniors," he continued.
Schumer also added the spending plan would tackle one of the most pressing issues to the American voter, which he said is climate change.
Despite a combined price of nearly $5 trillion between the two bills, Majority Whip Dick Durbin (D) asserted the package is already paid for. Durbin even tried pointing the blame at Republicans for the government's current deficit.
"What we are proposing in changes and expenditures are paid for. That's the point that Senator McConnell does not want to acknowledge, and he should," said Durbin. "Four years ago, we went through a tax cut which added dramatically to our nation's debt and gave tax breaks to the richest people in America. That was the highest priority of the Trump administration and the Senate Republicans."
.@LeaderMcConnell: "[Democrats] do not have a mandate to do this. They're acting like this is the New Deal. […] This is a 50-50 Senate, a three-seat majority in the House. The American people are not asking for any of this." pic.twitter.com/Qmyowa56Sa

— The Hill (@thehill) October 27, 2021
Sen. Mitch McConnell (R-Ky.) made note of the Democrat Party's frustrations of not passing the reconciliation or bipartisan bill in a separate press conference. McConnell also pointed out the difference in circumstances between the Build Back Better agenda and other large scale spending proposals in American history.
"They're acting like this was the New Deal," McConnell stated. "Roosevelt had massive majorities. Or as the Great Society, LBJ had massive majorities. This is a 50/50 Senate, a three seat majority in the House. The American people are not asking for any of this."