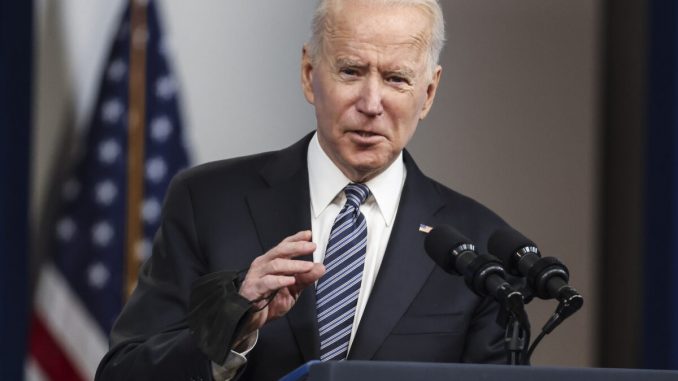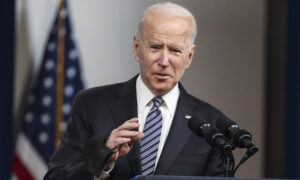 President Joe Biden said that as the Colonial Pipeline is returning back online following a ransomware attack last week, Americans should not panic-buy and hoard fuel, but he cautioned that shortages might continue in the near future.
"Fuel is beginning to flow to a majority of the markets that they service and they should be reaching full operational capacity as we speak," he said at the White House Thursday but noted that "we will not feel the effects at the pump immediately."
"This is not like flicking on a light switch," Biden said. "I know seeing lines at the pumps or gas stations with no gas can be extremely stressful," he added, "but this is a temporary situation."
The operator of the 5,500-mile Colonial Pipeline system, which runs from the Gulf Coast to New York, confirmed that it was able to restart its operations on Wednesday night.
The system is crucial in delivering fuel to portions of the Southeastern United States. This week, gas stations in North Carolina, Tennessee, South Carolina, Florida, Alabama, Maryland, and elsewhere reported fuel shortages, according to analyst website GasBuddy.
Meanwhile, long lines were seen at stations, which triggered other motorists to fill their tanks—as well as gas canisters—out of fear of a shortage, according to GasBuddy's Patrick De Haan in a Wednesday interview with The Epoch Times.
Biden on Thursday also elaborated on the ransomware attack and cited an FBI report in saying that officials "do not believe the Russian government was involved in this attack." However, he said that the cybercriminals are most likely living in Russia and called on the Kremlin to take "decisive action" against them.
The FBI said a hacker group that calls itself Darkside was behind the pipeline breach. Meanwhile, according to a statement from Darkside to news outlets this week, the group said it is apolitical and said that "our goal is to make money."
The president also used the announcement to promote his multi-trillion-dollar infrastructure package, saying that it's crucial for the bill to be passed in the midst of the pipeline shut down and weeks after fuel shortages in Texas during freezing temperatures. The United States, he asserted, is not going to "win the 21st century" against China without "modern infrastructure" in place.
Biden said he and Republican congressional leaders will again meet on an infrastructure deal later Thursday. Republicans have balked at the price tag of Biden's two infrastructure bills—$4 trillion—and said the legislation includes a number of unnecessary provisions unrelated to traditional infrastructures such as bridges, roads, and pipes.
During their first round of talks Wednesday, Minority Leader Mitch McConnell (R-Ky.) and House Minority Leader Kevin McCarthy (R-Calif.) said they would oppose tax increases to cover the cost of the gargantuan package. The two met with Biden, House Speaker Nancy Pelosi (D-Calif.), and Senate Majority Leader Chuck Schumer (D-N.Y.) at the White House.
"We're not interested in reopening the 2017 tax bill. We both made that clear to the president. That's our red line," McConnell told reporters, while McCarthy said, "Raising taxes would be the biggest mistake you could make."
Some Republicans have also expressed concern that the massive bills would spark a rise in inflation after the Consumer Price Index rose 4.2 percent from April 2020 to April 2021.