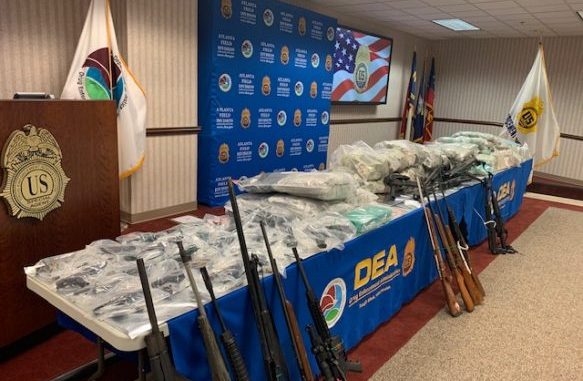 OAN Newsroom
UPDATED 2:00 PM PT – Thursday, August 13, 2020
In the largest heroin bust Georgia has ever seen, DEA officials seized a massive amount of drugs this week in Atlanta. Authorities confiscated 170 kilograms of heroin, along with cocaine, marijuana, 41 guns and more than a million dollars in cash.
The estimated street value of the drugs was around $8.5 million.
@DEAATLANTADiv @FBIAtlanta @DoravillePD strike success against trafficker who ran notorious open air Atl. drug market called The Bluff. DEA Acting Administrator Shea said, "The DEA stands resolute w/ our law enforcement partners to protect Americans." Seehttps://t.co/1SpiAyo6Mx pic.twitter.com/B7NKqG9nDW

— DEAAtlanta (@DEAATLANTADiv) August 12, 2020
Earlier this week, agents also announced the arrest of 46-year-old Antonio DeShawn Daniels, also known as "Freckleface Shawn." He's since been indicted on federal charges.
According to officials, Daniels was one of the cartel's top suppliers.
"This investigation has ties all the way up to the highest cartel activities in Mexico, and Mr. Daniels is a part of that. Due to COVID, a lot of people who are willing to do criminal activities think that police are not out there. This is a perfect example that our everyday heroes and law enforcement agencies have been out there every single day, despite the dangers, to enforce the law in keeping these poisonous and dangerous materials from our streets." – Byung J. "Bjay" Pak, U.S. Attorney for the Northern District of Georgia
Officials believe his arrest will affect drug trafficking in the area for years.
@DEAATLANTADiv Special Agent in Charge Robert J. Murphy commented about the recent record-setting 170 kilogram heroin seizure, "This poly-drug trafficker's arrest sends a clear message to others who may choose to follow the same perilous path…you will be caught & prosecuted." pic.twitter.com/bn3TDAU9CN

— DEAAtlanta (@DEAATLANTADiv) August 13, 2020