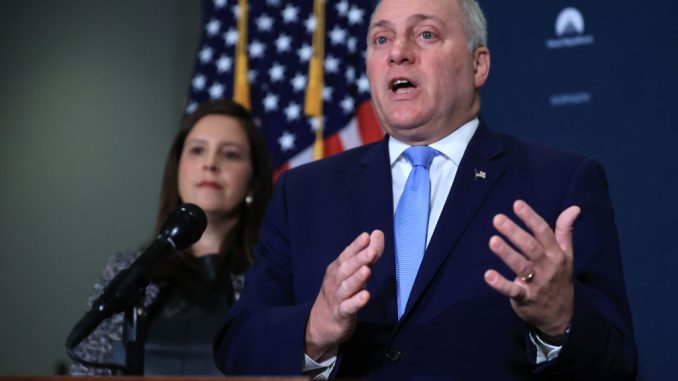 OAN Newsroom
UPDATED 12:58 PM PT – Thursday, October 21, 2021
House GOP leadership gathered on Capitol Hill to once again demand action and change from their Democrat counterparts, as well as the White House.
Speaking to the American people Wednesday, Reps. Elise Stefanik (R-N.Y.), Steve Scalise (R-La.), Michael McCaul (R-Texas) and Michelle Steele (R-Calif.) highlighted the left's failing agenda and its impact on the country. They zeroed in on the threat of skyrocketing inflation to every American's wallet and the affect it has already taken.
The lawmakers also targeted the unprecedented supply chain crisis, calling it Joe Biden's holiday gift to America.
"And make no mistake, this is a direct result of Joe Biden's failed leadership and his Build Back Bankrupt agenda. And yet, as the American people are suffering crisis after crisis, this week House Democrats returned to Washington in complete disarray with their eyes set on a tax and spend package totally over $5 trillion," said Stefanik.
What is in Democrats' radical reconciliation package?

❌Amnesty for 10 MILLION illegal immigrants
❌$100 billion in taxpayer-funded benefits
❌ZERO funding for the Border Wall

Democrats' radical reconciliation package will only make Biden's Border Crisis WORSE.

— Rep. Elise Stefanik (@RepStefanik) October 21, 2021
She stressed the reconciliation package isn't just about the price tag, it's about the far-left socialist policies that the American people don't support included within. These include the Made in America tax, measures to prop up the Green New Deal, and the support for mass amnesty.
Rep. Steele said she's been trying to reach the White House in an attempt to have a major disaster declaration issued for Orange County, but has been left hanging.
Rep. McCaul, the ranking member on the House Foreign Affairs Committee, drew attention to the Biden administration's failing foreign policies. He also touched on the warning his committee had given regarding China's work on hypersonic weapons, saying they were leading in the innovation of the warfare.
WATCH: @RepMcCaul highlights the threat Communist China poses to the United States because of Joe Biden's failed leadership. pic.twitter.com/2jzbsC3uL8

— House Republicans (@HouseGOP) October 20, 2021
Meanwhile, China has reportedly tested these military capabilities with little to no reaction from the Biden White House. He said the most disturbing is that these weapons were built on the backbone of American technology that they've either stolen or had handed to them, and called for stronger export controls to stop this very thing from happening.
Rep. Scalise called for action from the majority in Congress, saying they have the power to fix the problems they've created. He said House Republicans would continue to fight for the average American that's being bogged down by Democrats' reckless tax and spend policies that only benefit Washington.