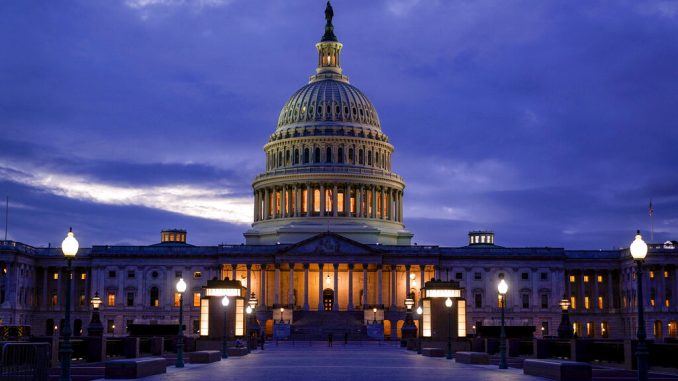 OAN Newsroom
UPDATED 7:33 AM PT – Wednesday, October 13, 2021
Democrats used their slim majority to pass a bill to extend and raise the debt ceiling. The House of Representatives passed a package of bills in a 219-to-206 vote on Tuesday, one of which made this happen.
The law raises the debt limit by $480 billion, which the Treasury Department said is enough to let the federal government pay its bills through December 3. Top Democrats in the House tried to lecture Republican lawmakers for their near universal opposition to the bill.
"Mr. Chairman, we both went in that restaurant, we both got a steak, neither one of us ought to leave without paying the bill," stated Rep. Steny Hoyer (D-N.Y.), House Majority Leader. "It wasn't just you who went and got the steak, we got a steak too and we both have the responsibility to pay for that steak. That's what this vote is about." 
However, GOP lawmakers decried Democrats for their support for the bill while condemning other provisions that had nothing to do with the state of the U.S. debt.
"The reality is we're broke, our budget process is completely dysfunctional," said Rep. Jodey Arrington, (R-Texas). "We ought to be talking about spending caps. No budget, no recess. Debt targets, things we could work together on to actually get on a sustainable path the fiscal sanity. But instead, we bury a debt ceiling vote…that's why the America people can't stand this institution and they certainly can't trust this institution to to do the people's business." 
Other Republicans added, passing the bill will only add to the already massive debt already accrued.
"Let's reduce it down to kitchen table economics, but we then turn around and spend $6.5 trillion," noted Rep. Mike Kelly (R-Pa.). "So that's telling the average family back home: 'Mr. and Mrs. America understand something, you make $35,000 a year, you should be spending $65,000 a year in just increasing your total debt.'"
In the meantime, the bill is headed to Joe Biden's desk, where he is expected to sign it into law. It was already sent down from the upper chamber, where 11 GOP senators voted alongside Democrats to avoid an economic catastrophe.
This vote only prolongs the congressional fight to avoid default and is set on a collision course with the twin fight to fund the government as lawmakers are also battling over the $3.5 trillion reconciliation bill.
Lawmakers in both chambers will be taking a break from Capitol Hill through the rest of the week amid Congress's October recess, but will pick back up where they left off when they return next week.