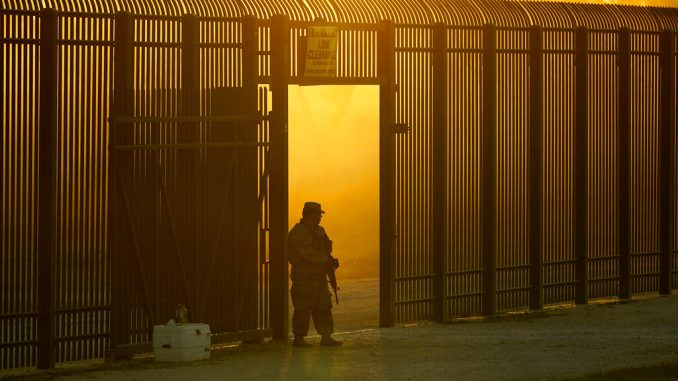 OAN Newsroom
UPDATED 11:18 AM PT – Monday, October 11, 2021
Republican senators are keeping the pressure on the Biden administration as a growing number of lawmakers visit the southern border.
Sen. Marsha Blackburn (R-Tenn.) shared a video of her visiting the border Sunday, where she highlighted the signs Border Patrol agents have had to install to ensure migrants don't get lost once they cross into the U.S. She described a tactic they use to reduce the need for rescue missions.
The border crisis has become so bad that Border Patrol has put up signs in an attempt to direct illegals crossing into the U.S. and to help reduce the number of rescue missions. pic.twitter.com/vIy5lCIrf3

— Sen. Marsha Blackburn (@MarshaBlackburn) October 11, 2021
Rep. Bryan Steil (R-Wis.) also shared a video of himself at the border recently in which he came down on Joe Biden's failing immigration policy. Steil was joined by fellow Reps. Jody Hice (R-Ga.) and Tony Gonzalez (R-Texas) who echoed many a Republican's sentiments.
Biden not only stopped construction of the wall, he is actually deconstructing it!

We must secure our border. pic.twitter.com/RBvU12Pwdh

— Bryan Steil (@RepBryanSteil) October 6, 2021
Sen. Ted Cruz (R-Texas) also recently released an appreciation video for the United States Border Patrol after visiting them. He thanked agents for the work they are doing with little help from the current administration.
"The work is so important as the cartels ramp up their production of deadly fentanyl to record levels," said the Texas lawmaker. "Day and night, 24 hours a day 365 days a year, the United States Border Patrol is here keeping us safe. And that's why I think it's so important to visit them and say thank you in person."
Cruz, along with many other Republicans, have been calling for Biden and Kamala Harris to take action for months and do not appear to be giving up the fight to protect the U.S. border any time soon.
Even in the face of Biden's self-inflicted #BidenBorderCrisis, the brave men and women of the Border Patrol continue to work every day to stop illegal activity at the border.
 #CruzAcrossTexas pic.twitter.com/Xkkj6v7dd6

— Senator Ted Cruz (@SenTedCruz) October 7, 2021
Additionally, Sen. Lindsey Graham (R-S.C.) is set to visit the border in Yuma, Arizona on Monday to meet with Border Patrol officials and discuss the major issues they are facing.