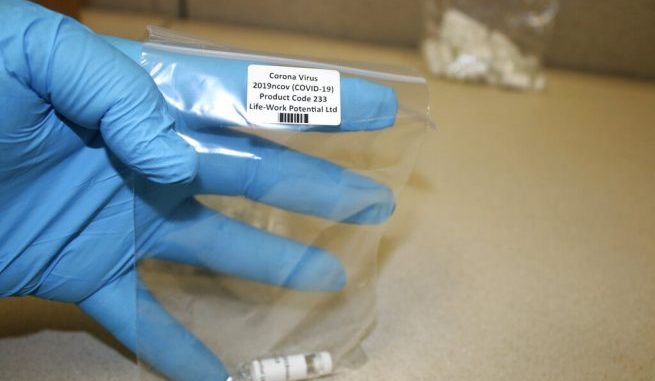 OAN Newsroom
UPDATED 1:58 PM PT — Tuesday, May 12, 2020
The Department of Homeland Security is highlighting a worrying trend of fraud connected to the coronavirus outbreak. This is something they intend to put a stop to. It's part of a new crackdown dubbed "Operation Stolen Promise."
Special agents said they have intercepted at least $3.2 million worth of unauthorized testing kits, faulty face masks, diluted cleaning products and fraudulent anti-viral drugs. According to ICE, some of these items are coming across the border.
So far, the agency has reportedly opened as many as 370 cases and arrested 11 individuals. ICE Acting Director Mathew Albence said that's just the tip of the iceberg.
"We've just scratched the surface as we start going through and conduct our investigations," he stated. "We have more than 500 leads…we have ongoing investigations…we've executed dozens of search warrants…as we comb through that evidence, you're going to see more of these arrests take place."
#HSI has launched Operation Stolen Promise, which targets #COVID19-related fraud. It combines HSI's expertise in global trade investigations, financial fraud, & cyber investigations w/ partnerships to disrupt & dismantle this criminal activity. Learn more: https://t.co/vZThmmKIL2 pic.twitter.com/5y4NiGvmZl

— ICE (@ICEgov) May 8, 2020
The operation reportedly launched back in April amid a rise in criminal activity connected with the pandemic. Albence said the first warning signs appeared in the form of websites selling fraudulent pharmaceuticals and counterfeit personal protective gear, with some trying to steal financial information as well.
Homeland Security has flagged at least 200,000 of these websites. While some of these schemes are orchestrated in Mexico, Albence said a large portion of virus-related crime is homegrown.
The case that seemingly kicked off the operation centered around Christopher Parris, a Georgia man facing federal charges for attempting to defraud the Department of Veteran's Affairs. The department paid Paris more than $750 million for a shipment of 3M respirator masks — a shipment which never materialized.
Albence said the best way to stop these types of Ponzi schemes is by keeping people informed.
"It's outreach to the public, it's educating them as to what red flags to look for," he explained. "If you go to the ICE.gov website, we have an entire page dedicated to this…people can come and get information with regard to these schemes and what we've seen and how they can protect themselves."
If you or someone you know suspects you may be the victim of this type of scam, you can contact Homeland Security directly through the following email: COVID19FRAUD@DHS.GOV.