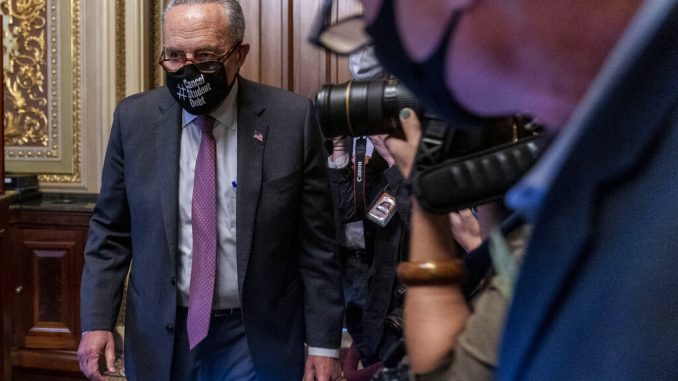 OAN Newsroom
UPDATED 10:06 AM PT – Thursday, October 7, 2021
Senate Majority Leader Chuck Schumer (D-N.Y.) announced an agreement on the debt ceiling. While speaking on the Senate floor Thursday, the New York lawmaker confirmed a deal has been reached to extend the limit through early December.
The Democrat senator said he hopes they can "get this done" as early as Thursday. The agreement would increase the debt limit by $480 billion, which is what the Treasury Department has said is the amount needed to fund existing debt.
Senate Minority Leader Mitch McConnell (R-Ky.) proposed the "fixed dollar amount" extension on Wednesday. The Kentucky lawmaker said Democrats would still need to use reconciliation for a long-term hike unless they abandon their "reckless" spending plans.
Sen. Lindsey Graham (R-S.C.) voiced his opposition to raising the debt limit. In a statement Wednesday, the top Republican on the Budget Committee said he doesn't support the left's reconciliation package or raising the debt limit to make the spending possible. He said if Democrats want to raise the debt ceiling, they can use the reconciliation process.
Statement from @LindseyGrahamSC, Ranking Republican on the Senate Budget Committee: pic.twitter.com/VQqc6yCeL7

— Senate Budget GOP (@BudgetGOP) October 7, 2021
The South Carolina lawmaker was the first GOP member to speak out against a deal being hammered out by Schumer and McConnell. His statement came ahead of Schumer's announcement tht a debt limit deal had been reached.