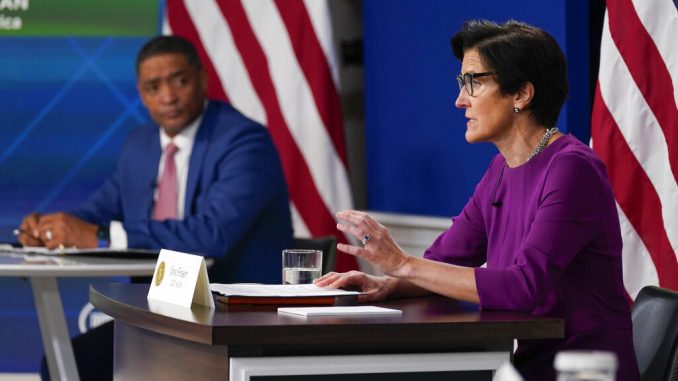 OAN Newsroom
UPDATED 10:24 AM PT – Thursday, October 7, 2021
"The cascading effects in the ensuing weeks could go anywhere from a recession to a complete catastrophe for the global economy."

— Jamie Dimon, CEO – JP Morgan Chase 
CEOs of transnational corporations are stirring up fears of a possible default on U.S. national debt while calling it "a catastrophe." In a video conference with Joe Biden on Wednesday, top executives from Citi Bank, Chase Bank and others claimed a U.S. default may cause a recession or a global financial crisis.
The CEO of Citigroup, Jane Fraser, added that an actual default would be unprecedented and could be potentially far worse.
"America simply cannot default on the debt because the U.S. Treasury market is the bedrock of our financial system domestically and globally," she explained. "And defaulting is going to cause lasting damage to the credibility of the United States with investors and in financial markets around the world."
Citi CEO Jane Fraser: "I can tell you that from an economic perspective, we need to resolve this issue very quickly. Every day of delay right now comes at an increasing price… it will hurt consumers. It will hurt small businesses."

— The White House (@WhiteHouse) October 6, 2021
However, former Republican Rep. Ron Paul of Texas claimed the government taking on additional debt is more dangerous than a default. In the meantime, some economists say the U.S. has several options to avert an economic crisis even in the event of a default.