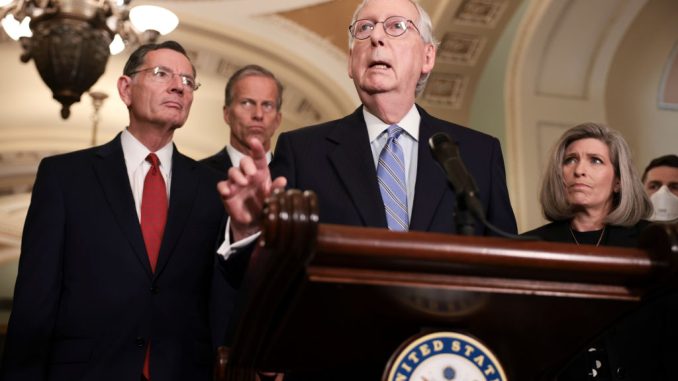 OAN Newsroom
UPDATED 5:22 PM PT – Wednesday, October 6, 2021
Senate Minority Leader Mitch McConnell (R-Ky.) offered up a short-term solution to avoid a catastrophic government default. In a statement posted on Twitter on Wednesday, McConnell said his party would support a deal to temporarily suspend the debt ceiling at a fixed dollar amount.
He said the agreement would cover current spending levels into December. The deal would also buy Democrats more time for a permanent solution.
My new statement on the Democrats' self-created debt limit crisis: pic.twitter.com/XwuqyS9oZ0

— Leader McConnell (@LeaderMcConnell) October 6, 2021
McConnell reiterated Democrats would have to pass a long-term hike on their own if they insisted on adding trillions in new government spending. However, he said a more bipartisan solution may be discussed if Democrats abandon their reckless spending plans.
Senate Democrats have responded to the possible solution, stating they're open to it. Although, ahead of a cloture vote on the issue, Democrats said they're still unwilling to accept a longer suspension of the borrowing cap.
The upper chamber's vote on the House-passed legislation to raise the debt ceiling has been delayed until later Wednesday evening as both parties continue to work to come to an agreement. If enough Republicans support McConnell's offer, Democrats could avoid a filibuster on that particular vote.
In the meantime, it's unclear if Democrats will agree to a fixed dollar increase of the debt ceiling.