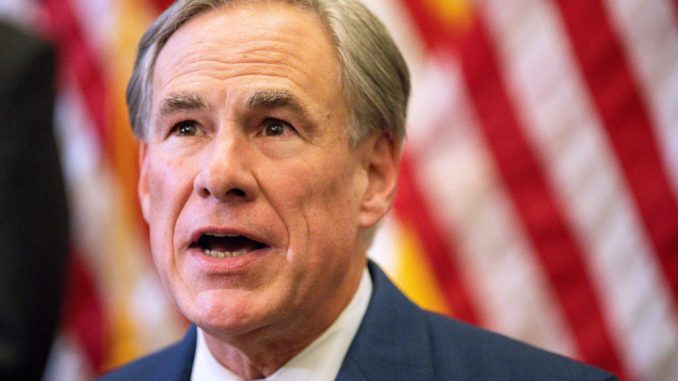 OAN Newsroom
UPDATED 6:54 PM PT – Wednesday, October 6, 2021
Texas Gov. Greg Abbott (R), alongside nine other state governors, have decided to take matters into their own hands when it comes to the southern border crisis. The group traveled to Texas to present possible solutions.
During a press conference on Wednesday, Gov. Abbott unveiled a 10-point plan to secure the border. Abbott demanded the Biden administration enforce Title 42 health restrictions at the border, which allows Border Patrol agents to deport illegal immigrants in hopes of preventing the spread of COVID-19 in the U.S.
Arizona Gov. Doug Ducey (R) also too the floor, saying the border sector in Yuma has had more than a 1,000 percent increase in apprehensions compared to last year. Additionally, almost 2,000 pounds of fentanyl and over 13,000 pounds of methamphetamine have reportedly been seized in Arizona sectors this year alone.
Nine other governors joined me in Mission, TX to outline our 10-point plan for President Biden to end the border crisis created by his disastrous open border policies. https://t.co/Woy9Qp1y0w

— Gov. Greg Abbott (@GovAbbott) October 6, 2021
Ducey blamed Joe Biden, Kamala Harris and Department of Homeland Security Secretary Alejandro Mayorkas for making America a "dangerous place."
"He's commanded drug cartels and other criminals to wreck havoc on the U.S. It's time for them to do something about it," he said.
Ducey is among 25 governors who backed a letter sent to Biden requesting a meeting to solve the crisis immediately. He suggested Biden re-enter all agreements with its northern triangle partners, including Mexico.
Iowa Gov. Kim Reynolds (R) touched on incidents where migrants and unaccompanied children were dropped off in the state while Biden continued to do nothing about it.
"In April, we had 15 unaccompanied minor girls that were flown into the Des Moines airport in the middle of the night and then they were boarded on charter buses," explained Reynolds. "And so we were concerned that it was human trafficking. So, we used our own resources to investigate the plane that had 19 young women being dropped off in the state of Iowa and moved to charter buses."
In the meantime, the GOP governors said they still haven't heard back from Biden regarding the letter they sent and question whether he's unwilling to solve the crisis or simply doesn't want to.