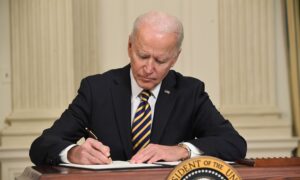 WASHINGTON—The White House reacted to a media report that stated President Joe Biden, to please environmentalists, is planning to import most of the metals needed for electric vehicle production instead of sourcing from U.S. miners.
Reuters reported on May 25 that the United States would source metals from ally countries like Canada, Australia, and Brazil for electric cars, citing two administration officials with direct knowledge of the matter. This was contrary to what the Biden campaign promised before the election.
"The plans will be a blow to U.S. miners who had hoped Biden would rely primarily on domestically sourced metals," the report said.
The plan also conflicts with the executive order signed last year by former President Donald Trump to expand and strengthen domestic mining of rare earths and other critical minerals. Trump also allowed the Pentagon to fund private-sector efforts to build a domestic refinement capability for rare earths.
The White House denied Reuters' report, saying that it "incorrectly" characterized the administration's approach to building domestic manufacturing, which comprises "responsibly developing mineral sources" in the United States.
"President Biden is focused on seizing the electric vehicle (EV) market, sourcing and manufacturing the supply chain here in America, and creating good-paying, union jobs," Ali Zaidi, deputy national climate advisor said in a statement to The Epoch Times.
"Building American-made EVs and shipping them around the world will include leveraging American-made parts and resources. This includes responsibly pursuing, developing, and mining critical minerals and materials used for EV batteries," he added.
However, the White House has not ruled out working with allies and partners to develop a resilient and secure EV battery supply chain. The United States will also invest in domestic supply chain for EVs that involves "extraction, processing, and recycling in the United States," another administration official told The Epoch Times.
Pini Althaus, CEO of USA Rare Earth, reacted to the Reuters report stating that the decision to source metals from other countries "is devastating for the sector and a setback towards the goal of establishing a secure domestic supply chain." USA Rare Earth currently develops the Round Top rare-earths deposit in Texas.
"The winner of such policy is China, again," he said in a statement slamming Washington for making poor decisions over the past 3 decades that increased U.S. dependence on China for rare-earth minerals and other critical materials used to manufacture modern technologies such as cellphones, electric vehicles, and missiles.
"China is actively and aggressively pursuing acquisitions of rare earth projects or offtake agreements all over the world, and non-U.S. project owners will make the best commercial decisions for their own shareholders, not the idealistic and regulated approach that U.S. miners will take—prioritizing materials for the U.S. supply chain," Althaus said.
Domestic electric vehicle production depends on critical minerals such as manganese, lithium, cobalt, nickel, graphite, aluminum, copper, and various rare earth elements. For some of these materials, the United States is fully dependent on imports. And China is the dominant global supplier for many of these minerals.
For the past few years, Beijing has demonstrated that it could use rare earths as a retaliatory tactic. And early this year, the Chinese regime officials signaled that China could curb exports of rare earths to cripple U.S. production of F-35 fighter jets.
To counter supply chain disruptions and address these China threats, Biden signed an executive order on Feb. 24 to "help create more resilient and secure supply chains for critical and essential goods."
The order focuses on choke points in the supply chains of four key products, including rare earth minerals, semiconductor chips, batteries for electric vehicles, and pharmaceutical ingredients. Following the review, administration officials said the White House could explore various policy options, including boosting domestic production and working with allies to address supply disruptions.
While critical minerals including rare earths are vital to the economic and national security of the United States, it's still unclear whether the Biden administration can promote ramping up domestic mining and refining due to road blocks from environmentalists and some Democrats.
"As we strengthen our supply chains, we will pursue strong environmental standards and broad, rigorous consultations with local and indigenous communities to support a responsible, fair, and sustainable EV industry," Zaidi said.
"President Biden will also make sure no workers or communities are left behind–working to revitalize economies and create good jobs in coal and power plant communities."