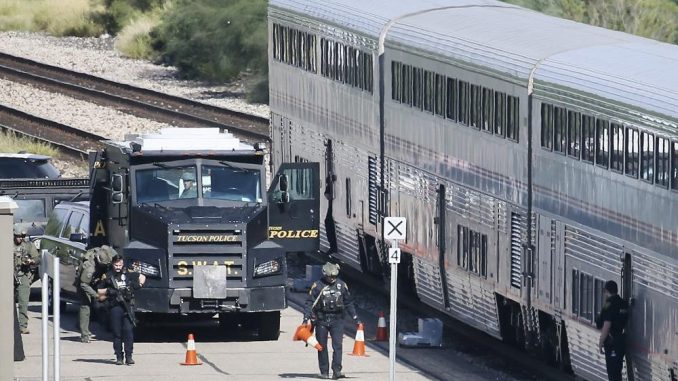 OAN Newsroom
UPDATED 3:04 PM PT – Monday, October 4, 2021
At least one Drug Enforcement Administration agent was killed and two other officers were injured following a shooting at an Amtrak station in Tucson. The Tucson Police Department confirmed the shooting happened Monday morning onboard an Amtrak train, which was stopped at the station.
According to authorities, two DEA agents were boarding the stationary train to conduct a routine interdiction check. The agents reportedly detained one person when another opened fire on them.
A local police officer, who heard the shots and ran in the train car to help, was also shot. The shooting suspect reportedly barricaded himself in a bathroom and was later found deceased.
"So ultimately as time went on there wasn't clarity whether the suspect was still alive or not, whether he had been shot or not, but ultimately it was determined that the suspect in the bathroom was in fact deceased," explained Chief Chris Magnus of Tucson Police Department. "He was declared dead at the scene."
UPDATE: The scene is secure. This is being investigated as an officer involved shooting. We are working with fellow agencies & medical personnel to confirm the extent of injuries. A media staging time/location is being set. Additional updates to follow.

— Tucson Police Dept (@Tucson_Police) October 4, 2021
The injured officers were rushed to local hospitals, where the DEA agent remains in critical condition. The Tucson Police officer was said to be in stable condition.
Meanwhile, local agencies are investigating whether the deceased suspect died from gunfire from the officers or committed suicide.