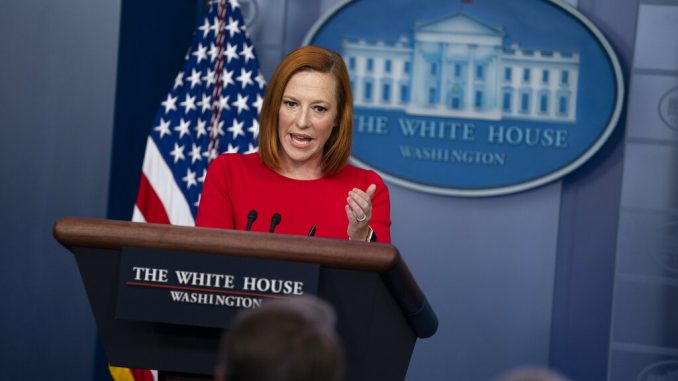 OAN Newsroom
UPDATED 9:46 AM PT – Wednesday, September 29, 2021
Press Secretary Jen Psaki claimed military advisors were split over the number of troops to withdraw from Afghanistan. During a press conference after top military leadership testified to a Senate panel Tuesday, she was grilled by the Press Corps over contradicting the testimony.
During the hearing, Joint Chiefs of Staff Chairman Mark Milley and head of U.S. Central Command Kenneth McKenzie testified that they recommended Joe Biden keep 2,500 troops in Afghanistan. Psaki said the recommendations were mixed and suggested leaving behind that number of troops would require a surge at a later date.
"Secretary Austin specifically said if you stayed there at a pot force posture of 2,500, certainly you'd be in a fight with the Taliban and you'd have to reinforce," stated the press secretary. "So what should everybody take from that? There was a range of viewpoints as evidenced by their testimony today."
#NEW In Senate testimony, Gen. McKenzie says he advised Pres. Biden to keep 2,500 troops in Afghanistan, warned a complete withdrawal would result in the collapse of the Afghan forces and govt

Biden has repeatedly said he was not advised to maintain troops in the country

— Greta Wall (@GretaLWall) September 28, 2021
Psaki also said that Biden didn't think continuing the war in Afghanistan was in the best interests of the American people.
"It's abundantly clear: Joe Biden and Kamala Harris ignored the advice from the military and mislead the American people. Biden's botched Afghan withdrawal could have been prevented and American lives could have been saved."

— Sen. Ted Cruz. (R-Texas)
Meanwhile more currently, the Department of Homeland Security blocked a charter flight with Americans and green card holders evacuating from Afghanistan. On Tuesday, the founder of the group trying to get the evacuees out said landing rights were denied to his flight because it is an international charter airline.
The flight contained 28 U.S. citizens and 83 green card holders who are trying to get out of the country following the disastrous withdrawal of military forces. An anonymous administration official said he was unaware of the situation, but there is a process to check and verify the flight's passengers.