China had two intense earthquakes in the past two days, with at least 2,754 foreshocks and aftershocks affecting areas across western China. Many residents in quake-hit areas of Yunnan and Qinghai provinces told The Epoch Times that they had to take rescues into their own hands as help didn't arrive soon enough.
They also said that many houses are also no longer safe to live in and that local residents had to set up temporary tents in the streets and were taking risks themselves to collect necessities from their damaged houses due to a lack of aid.
"Almost all old houses collapsed. The others are cracked," hotel owner in Yangbi county Zhaluo (pseudonym) told the Chinese-language Epoch Times on May 22. "I'm scared. We have to self-rescue with our friends and relatives."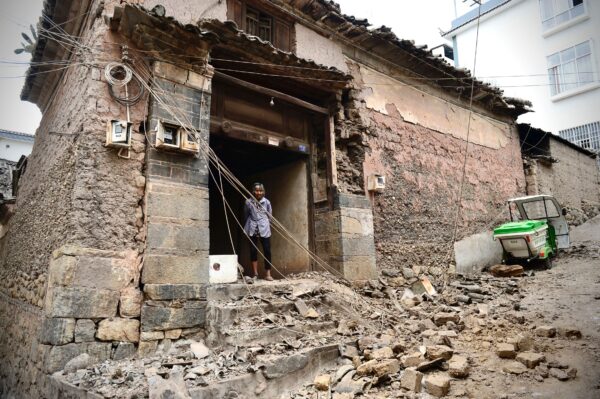 They also said they were hearing updates passed from neighbors that many people were injured during the earthquakes. But official news channels controlled by the ruling Chinese Communist Party (CCP) announced only limited cases in injury.
Yangbi county in southwestern China's Yunnan Province was hit by a 6.4 magnitude earthquake late May 21, near the border with Burma about 20 miles northwest of Dali. The quake came from a depth of eight kilometers (five miles), killing three and injuring 28, according to the China Earthquake Networks Center.
A resident from Tiezhu Road, Cangshan West Township in Yangbi, told the Chinese-language Epoch Times on May 22: "The regime didn't set up a relief tent here. We just went back home to find something to eat when it was relatively calm (without aftershocks). Some people had nowhere to go and sat on the side of the road at night."
On May 23, state-run Global Times, quoting Chinese earthquake experts, and reported that there are at least 1,585 foreshocks and aftershocks at Yangbi, with the strongest one registering as a 5.6 magnitude quake that struck about 27 minutes before the 6.4 magnitude quake.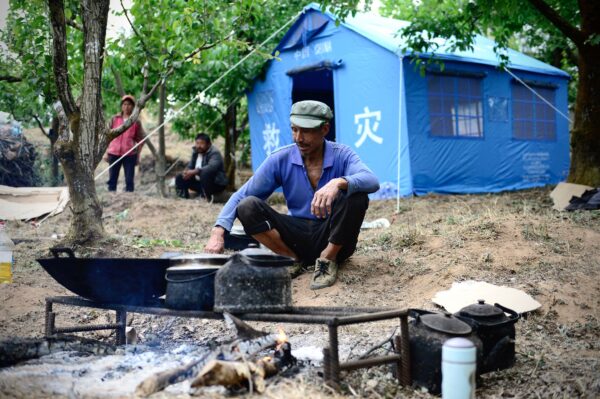 A second strong earthquake registering as a 7.4 magnitude quake hit Madoi county in northwestern China's Qinghai Province on Saturday. The quake destroyed local bridges, houses, and injured at least 13 people, according to an official announcement.
State-run People's Daily reported on Sunday that 1,169 aftershocks hit Madoi, and some others hit three counties in Qinghai; Henan, Dulan, and Maqên. The three counties are not connected with each other but spread across a distance of about 300 miles.
Chinese officials claimed that the earthquakes in Madoi were not related to the quake in Yangbi, which is about 1,000 kilometers (621 miles) south of Madoi. The People's Daily reported that the quakes were related to the tremors felt in the other three counties in Qinghai province.
Widespread Tremors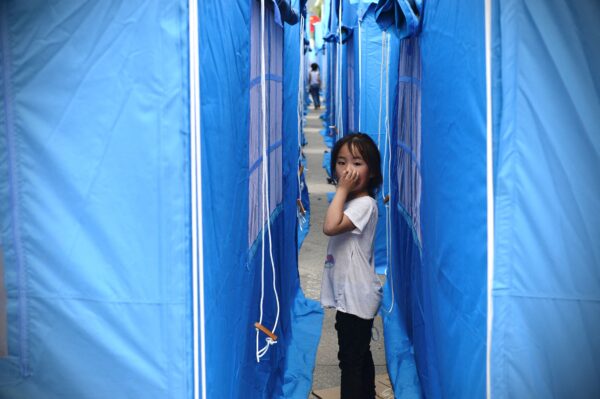 On May 22 and 23, four other Chinese provinces also reported earthquakes. A 3.4 magnitude quake hit Xuyong county in Sichuan Province on the early morning of May 22. A 3.6 magnitude quake shook Shangnan county in Shaanxi Province hours later. Then, a 3.6 magnitude quake hit Tashkurgan county in Xinjiang followed by a 4.4 magnitude quake in Maqu county, Gansu Province, minutes later.
All these earthquakes also happened in western China. It's unclear whether the quakes are related.
People's Cries Unheard
China's communist regime only briefly reported on the earthquakes in the news, without providing many details. Locals impacted by the natural disasters are suffering the consequences of a lack of public awareness as they call out for aid. They said the regime supplied disaster relief only to more populous areas, leaving many to fend for themselves.
Zhaluo also told The Epoch Times that all shops and hotels in the county had to close after the earthquake.
"Madoi has about 10,000 residents, and a large percentage of us don't dare to sleep at home because of the aftershocks," Zhaluo said. "Many houses in Huanghe township collapsed … Some residents slept inside their cars; some went to their relative's houses in other cities; some set up tents on the street."
Zhaluo said that most houses in downtown Modoi county were fine but that houses in the rural areas were badly damaged.
A Madoi resident who works for another hotel told The Epoch Times in the phone interview: "Some of the houses are cracked. Some houses aren't solid and have collapsed. I heard people were injured."
Both the resident and Zhaluo said that they didn't receive any warning before the earthquake hit or notices that there could be aftershocks. Now, they are living in survival mode, ready to flee the next quake and subsisting on very simple food just to fill the stomach.
A resident in Yangbi county in Yunnan told The Epoch Times in a phone interview: "I don't want to recall my memory of the quake. It's horrible … We don't dare to go back home now … We are waiting for the tent that the communist party promised to set up for us."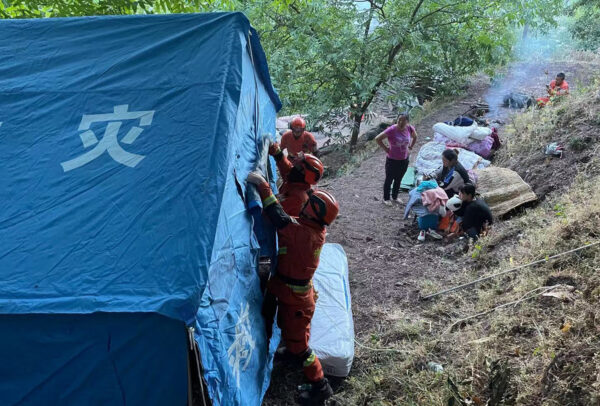 A restaurant worker in Cangshan West Township said: "We have co-workers injured [during the earthquake]. We sleep inside our cars."
A hotel owner in the township told The Epoch Times that he's had to close his hotel and "set up tents beside the road with my friends and relatives. We sleep in the tents at night."
The Madoi earthquake is the biggest one to hit China since the 8.2 magnitude quake in Wenchuan county, Sichuan Province, on May 12, 2008, which killed at least 69,227 people.
A 7.1 magnitude earthquake hit Yushu city in Qinghai province on April 14, 2010, killing 2,698 people; and a 7.0 magnitude earthquake hit Jiuzhaigou county in Sichuan Province on Aug. 12, 2017, killing 25 people.