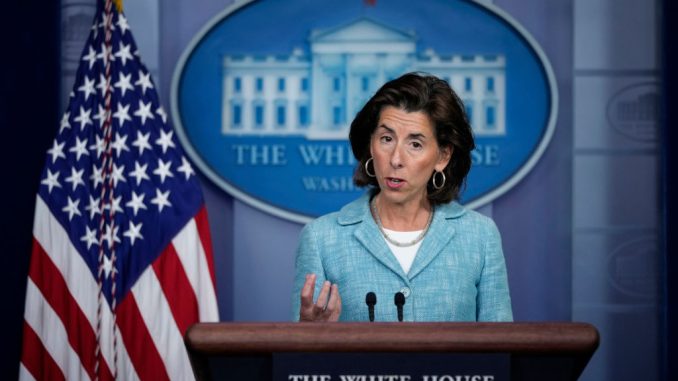 OAN Newsroom
UPDATED 11:33 AM PT – Friday, September 24, 2021
U.S. Commerce Secretary Gina Raimondo said the U.S. needs to take action as the worldwide chip shortage continues. Raimondo admitted the U.S. must start making more semiconductors at home in order to address the global shortage of chips.
She relayed that realistically there isn't a quick and easy fix to the shortage. "We are going to be dealing with this well into next year," said Raimondo. "Fundamentally, the solution is that we need to make more chips and we need to make more chips in America."
Raimondo said the House can't pass the Chips Act fast enough and she is optimistic for the outcome. She also explained how U.S. manufacturers and employers had to lay off workers after a slump in production capacity due to the lack of chips. The secretary added she wants to bolster America's ability to move more fluidly and preemptively counter a chip shortage if it were to happen again.
Raimondo said she's been working to find alternative shipment routes to address that issue.
Strong investments in manufacturing & research in the semiconductor industry will create thousands of well-paying jobs.

Looking forward to hosting the semiconductor supply chain meeting today at the @WhiteHouse with @BrianDeeseNEC.

— Secretary Gina Raimondo (@SecRaimondo) September 23, 2021
"I think there is a lack of transparency in the supply chain, there's a lack of trust in the supply chain. There's probably some over ordering going on, you know," said Raimondo. "There might be some, as you say, suppliers sending chips there because they can make more money, instead of here. So, we are going to do what we can to make incremental change as fast as we can, but the long term solution will take a while and that is just making more chips in America."
Meanwhile, COVID restrictions have crippled semiconductor manufacturing in recent months causing many industries to halt production as they await supplies.