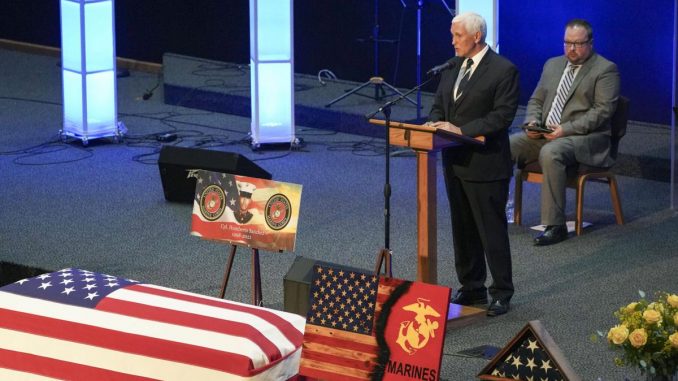 OAN Newsroom
UPDATED 8:28 AM PT – Wednesday, September 15, 2021
Hundreds of people gathered to say their final goodbyes to a U.S. Marine who was one of 13 service members killed in the deadly attack in Afghanistan. Indiana Marine Cpl. Humberto Sanchez, killed in last month's suicide bombing at the Kabul airport, was laid to rest in his hometown.
In a funeral service held at the Mount Hope Cemetery Tuesday morning, pastor and family friend Zach Szmara said Abiel, referring to Sanchez by his middle name, would light up every room by just his presence.
"He brought life into places that needed it most; his presence brought vibrant color into parts of life that were grey and dull," said Szmara. "The joy he brought into life was so immense, so much so that you can tangibly feel emptiness when he was missing."
Prior to enlisting in the Marines, the 22-year-old was an active church member through his leadership in youth groups and an avid soccer player for his high school. The pastor noted that because of Sanchez's service and ultimate sacrifice, people now have a way forward for a future.
"Abiel legacy will always live on; it lives on through those of us who know him and share his story personally," Szmara continued. "But it also lives on through those tens-of-thousands who will never get to meet him in this life, but have a life and future because of his sacrifice."
Szmara said despite the tragic loss, Sanchez will inspire generations to come and he will not be forgotten.