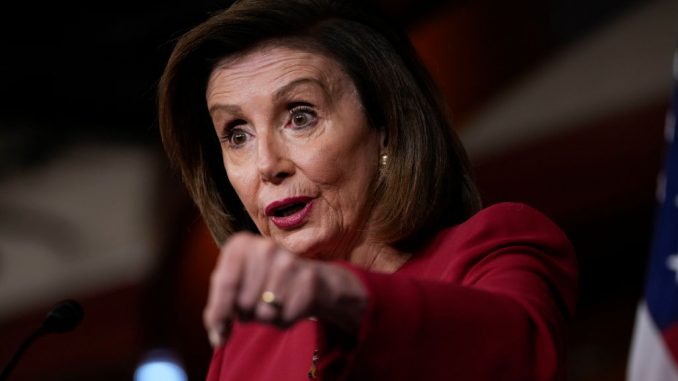 OAN Newsroom
UPDATED 2:54 PM PT – Wednesday, September 8, 2021
House Speaker Nancy Pelosi (D-Calif.) has refused to increase the debt ceiling without bipartisan support. Speaking to reporters on Wednesday, the California Democrat said she would not put a debt ceiling increase in the Democrat reconciliation package.
She has instead demanded that Republicans vote alongside Democrats to raise the ceiling. Republican leaders have responded, saying they want Democrats to own the issues that will come with increasing the debt.
Pelosi said she blames Republicans for the debt, claiming the aim now is to pay off debt accrued under the Trump administration.
"During the Trump administration, which amassed over $7 trillion in debt, and that's what this debt ceiling lift is paying for," claimed Pelosi. "People just say 'oh you just wanna spend money.' No, we're paying the credit card. The Trump credit card."
.@SpeakerPelosi on raising the debt ceiling: "It has to happen…We won't be putting in reconciliation."

Full video here: https://t.co/IEDhE2Vp4k pic.twitter.com/VDU1aTeBo0

— CSPAN (@cspan) September 8, 2021
Pelosi said Democrats acted responsibly by raising the debt ceiling for the so-called Trump credit card and she expects Republicans to do the same for Joe Biden. This follows Treasury Secretary Janet Yellen's comment saying if the ceiling isn't raised by October, the results would cause catastrophic and irreparable harm.