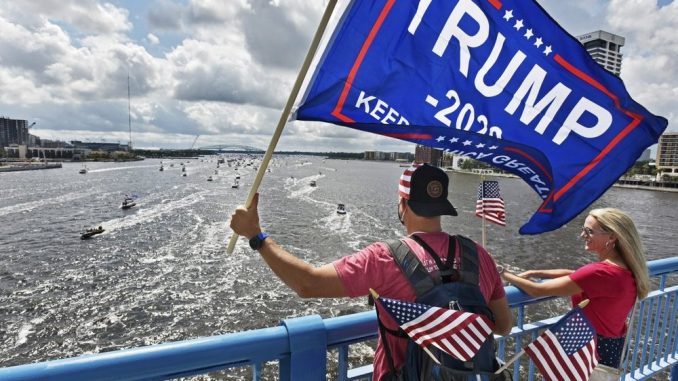 OAN Newsroom
UPDATED 2:04 PM PT – Sunday, September 5, 2021
A major boat rally in support of President Trump took place in Fort Myers, Florida. Hundreds of boaters immersed themselves in the demonstration on Sunday, carrying "Trump 2020" and "Save America" banners.
Organizers of the rally said they are planning to beat the world record for the largest flotilla in support of a political cause. The website for the event reads, "you know you want to show people your boat and make history at the same time. You don't need an excuse to participate, but you know you want to!"
"One of the things we wanna do is keep the momentum going while we're in this midterm cycle," said Cliff Gephart, Trumparilla 2021 organizer. He added the next Trumparilla is set to take place in Clearwater on Oct. 15 and Oct. 16.
Support for President Trump is alive and well in Fort Myers, Florida!#Trump boat parade 🇺🇸 pic.twitter.com/kmvRSnbePK

— RSBN 🇺🇸 (@RSBNetwork) September 5, 2021
Rally participants stressed the rally shows a rising number of Americans are moving away from disastrous Democrat policies all across the country.