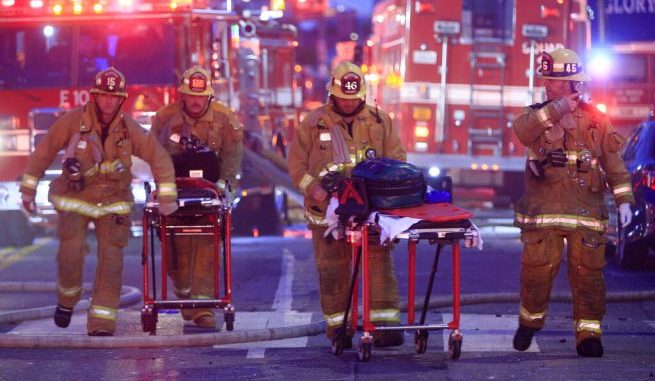 OAN Newsroom
UPDATED 11:15 AM PT – Saturday, August 22, 2020
The owner of the site of a massive fire and explosion in downtown Los Angeles, along with his business tenants, is facing dozens of charges in connection with the incident. The charges, which were announced Friday, alleged the owner illegally stored hazardous materials at the building that caught fire and three other buildings he owns.
The explosion happened as city firefighters fought the blaze, which ignited in mid-May at the site of a butane oil supplier and two other businesses.
According to the fire department, the heat was so intense it melted through helmets and injured a dozen firefighters.
"We started bailing from the roof down our aerial ladder. At that point, it sounded like a 747 was flying over our heads. The ground was shaking, the roof was shaking."
– Ian Soriano, injured firefighter
The building owner is facing a maximum sentence of almost 70 years in prison, while the neighboring shop owners are facing more than 40 years. Arraignments are scheduled for November.