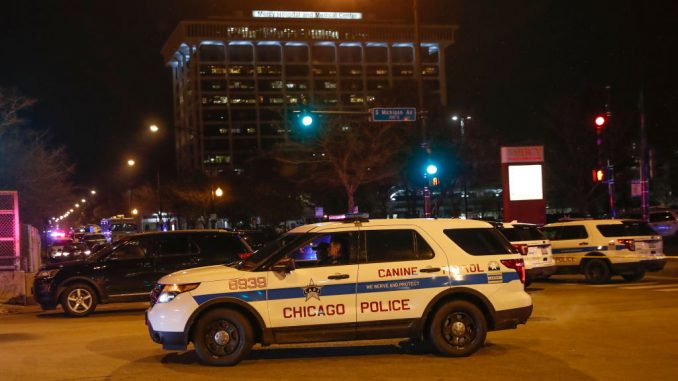 OAN Newsroom
UPDATED 10:24 AM PT – Sunday, September 5, 2021
A father in Chicago was fatally shot in the middle of traffic while taking his 7-year-old daughter to school. The Chicago family is mourning the loss of their loved one after a gunman unexpectedly opened fire on a man Wednesday morning.
Police released surveillance photos from the shooting last week of the man allegedly responsible for the death of 33-year-old Travell Miller. Miller was reportedly driving his daughter to school when the suspect suddenly approached his vehicle.
"He was sitting at the light and five cars behind him, guy gets out of a car, walked up to his car, exchanged brief words with him and then starts firing," said Miller's father, Joseph Gilmore.
The 33-year-old father of two was later pronounced dead at the hospital. Miller shielded his daughter during the shooting, where he was shot four times and his daughter was left uninjured.
"The doctor was explaining by the way the entry of the bullets that it appeared when the assailant began to shoot at him, he leaned over to protect her to keep her from being shot," said Gilmore.
A family is raising is money to bury Travell Miller-Gilmore, a dad shot and killed while taking his 7-year-old daughter to school. https://t.co/h4kgp9HGGI pic.twitter.com/DuLI1s7Iho

— Block Club Chicago (@BlockClubCHI) September 2, 2021
The family, now traumatized, is pleading with the suspect and any witnesses to come forward.
"How do you live with yourself knowing a 7-year-old will be traumatized for the rest of her life because her father was killed in front of her and he died saving her from bullets? And all she was trying to do was go to school," said Tunesia Gilmore, the victim's stepmother.
Chicago Police are continuing to search for the suspect who is believed to be between 18- and 20-years old, and was said to be driving a two-door silver Pontiac Grand Prix.