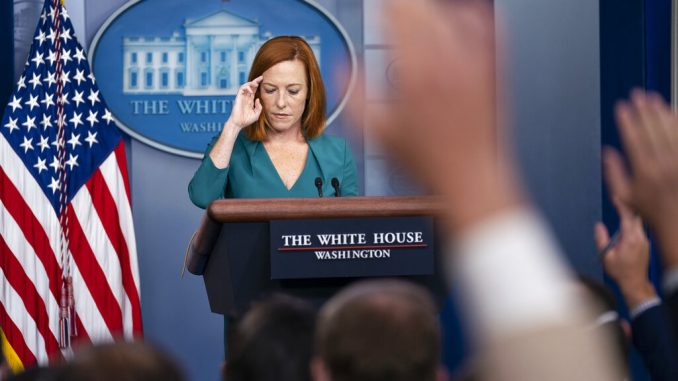 OAN Newsroom
UPDATED 9:11 AM PT – Friday, September 3, 2021
A fiery exchange broke out between White House Press Secretary Jen Psaki and a reporter for a Catholic television network. During a briefing on Thursday, Owen Jensen, who works for Eternal World Television Network, asked Psaki some tough questions about how Joe Biden can claim to be a devout Catholic as he advances the left's pro-abortion agenda.
Jensen: Why does the president support abortion, when his own Catholic faith teaches abortion is morally wrong?
Psaki: He believes that it's a woman's right, that it's a woman's body and it's her choice
Psaki then got combative when Jensen followed up with another question.
Jensen: Who does he believe then should look out for the unborn child?
Psaki: He believes it's up to the woman to make those decisions and up to a woman to make those decisions with a doctor. I know you've never faced those choices nor have you ever been pregnant, but for woman out there who have faced those choices this is an incredibly difficult thing.
After shaming the male reporter for not having a uterus, she quickly changed the topic.
Psaki also warned Biden is working with Senate Majority Leader Chuck Schumer (D-N.Y.) and House Speaker Nancy Pelosi (D-Calif.) to overturn the Texas heartbeat law, which went into effect Wednesday. The so-called devout Catholic will apparently make defeating the law a priority and has already urged his cabinet members to look at every option to overturn the legislation.
Read My Full Statement on Supreme Court Shadow Ruling on Texas Reproductive Rights Case here: https://t.co/Qon4WtB9ax

— Nancy Pelosi (@SpeakerPelosi) September 2, 2021
All this comes months after Psaki made a promise to Americans who were concerned about replacing his religious values with the left's pro-abortion agenda.
Many leaders in the Catholic community have commented on Biden's failure to uphold his own religion's values. This includes the president of the U.S. Conference of Catholic Bishops, the Archbishop of Los Angeles Jose Horacio Gomez, who said Biden has pledged to pursue policies that would "threaten human life and dignity."