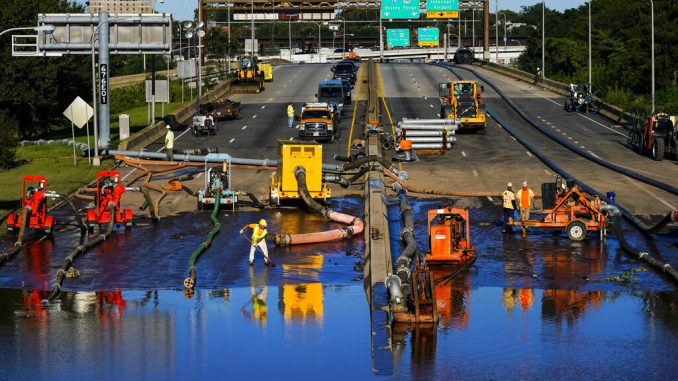 OAN Newsroom
UPDATED 6:36 AM PT – Friday, September 3, 2021
Joe Biden held a press conference to discuss the response efforts in place for those suffering in the aftermath of Hurricane Ida. In a speech Thursday, he confirmed FEMA is on the ground in New York and New Jersey amid widespread flooding and tornadoes that have led to the deaths of dozens of people.
"I spoke with Governor (Kathy) Hochul of New York and Governor (Phil) Murphy of New Jersey, and I plan to speak with Governor (Tom) Wolf of Pennsylvania after last night's devastating storm and floods from Hurricane Ida, the fifth largest hurricane in our history," Biden stated. "Record rain fell in these states and New York recorded more rain yesterday, the first day of September, than it usually sees the entire month of September. We saw more than three inches of rain per hour fall in Central Park."
He issued an emergency declaration for New Jersey and New York in the wake of the storm, which downed power lines, destroyed houses and brought major cities to a standstill.
Tune in as I deliver remarks on our response to Hurricane Ida. https://t.co/oguK3wNtvG

— President Biden (@POTUS) September 2, 2021
Biden also said he's working with electric and gas companies to restore power for all of the residents in Louisiana who are still without power. He then made a plea to insurance companies to pay their fair share to people who fled their homes ahead of the storm.
So far, FEMA has paid $77 million to help Louisiana residents in their recovery efforts.
"For those who have lost their homes, states have been working with the American Red Cross to open almost 50 shelters across the Gulf Coast," said Biden. "We know that there is much to be done in this response on our part. We need to get power restored. We need to get more food, fuel and water deployed. I get hourly updates on the progress from FEMA well into the night and we'll be working around the clock until the critical needs of the region are fully met."
In the wake of Hurricane Ida, the federal government is working around the clock to respond to the needs of Americans impacted by the storm's devastating impacts. Read more: https://t.co/UDeWiOfqif pic.twitter.com/0C1n8mdWLl

— The White House (@WhiteHouse) September 2, 2021
Ida was tied for the fifth largest hurricane to hit the U.S. and its remnants triggered the National Weather Service's first-ever flood emergency warning for the state of New York.