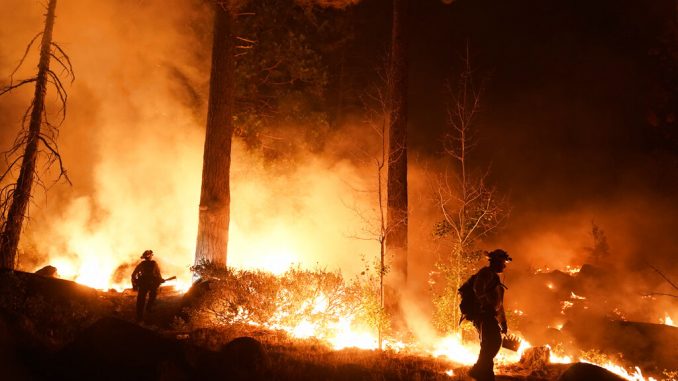 OAN Newsroom
UPDATED 8:13 AM PT – Thursday, September 2, 2021
Joe Biden issued an emergency declaration in response to the Caldor Fire in Northern California. He approved the declaration Wednesday night while authorizing the state to get federal assistance for recovery efforts in multiple counties affected by the fire.
The declaration also allows the state to get grants for temporary housing, home repairs and programs to help local business owners recover. This comes as the fire has destroyed dozens of structures while forcing the evacuation of hundreds of people as the blaze rapidly spreads throughout the region.
Grateful for the quick approval of support from @POTUS and @VP for the #CaldorFire so California can continue to bolster our response and provide additional support for those impacted by this devastating fire. https://t.co/0eSgWrpdLG

— Gavin Newsom (@GavinNewsom) September 2, 2021
"This fire has shown us how challenging and volatile that it can be," stated Keith Wade, a spokesperson for the Caldor Fire Incident Command. "Every containment line that we've had on that eastern side, it has skipped it and the reason being this is a very rapidly driven fire through terrain. And it's the weather that's helping to drive it. We've experienced very erratic winds, very high temperatures and very low humidity. And we're in areas that haven't burned on some records for decades or even 100 years."
The Caldor Fire, which started more than two weeks ago, has scorched over 200,000 acres and is only 25 percent contained as of Thursday morning.
Caldor Fire 7:00 a.m. Incident Update for September 2, 2021. The #CaldorFire has burned 210,259 acres and is 25% contained. @CAL_FIRE 1/2 pic.twitter.com/bpwVFCBpGV

— CAL FIRE AEU (@CALFIREAEU) September 2, 2021