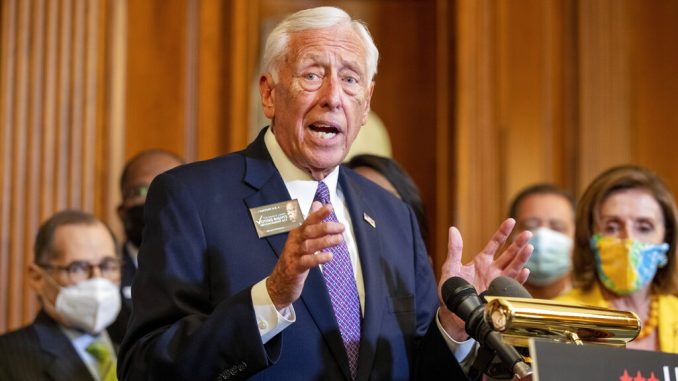 OAN Newsroom
UPDATED 8:55 AM PT – Wednesday, August 25, 2021
Federal overreach recorded another victory after Democrats pushed the John R. Lewis Voting Rights Advancement Act through the House. On Tuesday, representatives voted 219-to-212 to send the piece of massive election reform to the upper chamber with no Republican backing the measure.
GOP critics have taken issue with the bill for its provision mandating states must get federal approval before making any changes to their election laws. The measure is named after the late civil rights leader and former Georgia Rep. John R. Lewis who fought to keep the 1965 Voting Rights Act alive.
"What made John Lewis great for 50-plus years thereafter: he kept his eye on the prize and the prize was not just this bill," stated House Majority Leader Steny Hoyer (D). " The prize was the beloved community. A community that accepted, lifted up and enabled people to participate fully in their democracy."
Proud to join @SpeakerPelosi, @RepTerriSewell, & other House Dems following the passage of #HR4, the John Lewis Voting Rights Advancement Act. Today was a victory in our efforts to #RestoreTheVote, & we'll keep working to get this bill to @POTUS' desk. https://t.co/ELoKDDFURl

— Steny Hoyer (@LeaderHoyer) August 25, 2021
However, the current law aims to reinstate a piece of the Voting Rights Act that was eliminated by the Supreme Court back in 2013. The act attempts to reverse Shelby County v. Holder, where the Supreme Court determined that the federal government did not have the authority to single out certain states and districts for the purpose of electoral oversight.
The bill now heads to the Senate, where it will likely face Republican opposition over its perceived federal overreach.