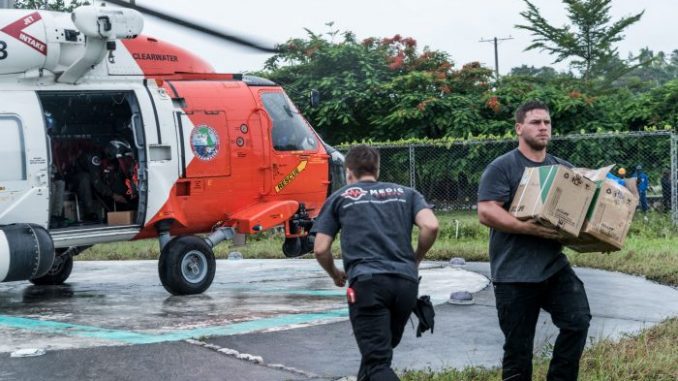 OAN Newsroom
UPDATED 7:43 PM PT – Tuesday, August 17, 2021
The U.S. sent a joint task force to Haiti to help with humanitarian efforts following a deadly earthquake. Pentagon Spokesperson John Kirby announced on Tuesday, the U.S. flew eight helicopters to the Caribbean nation to help ground crews with search and rescue operations.
Two U.S. Naval Vessels were also set to be deployed to Haiti to transport supplies and provide medical assistance to those injured in the quake. More than 1,400 people were killed in the magnitude 7.2 quake and over 6,900 others were injured.
The U.S. Coast Guard also deployed humanitarian aid to Haiti. Coast Guard personnel landed in the Caribbean nation on Sunday and have been assisting search and rescue teams to find survivors buried in the rubble.
Photos released on Monday showed a Coast Guard member carrying a critically injured child to emergency medical services. Aircrews have also been transporting medical supplies to help with the rescue efforts.
Yesterday, @USAID deployed an urban search and rescue team to Haiti to join the Disaster Assistance Response Team (DART).

Read more about the search team's efforts here: https://t.co/kOgq2EqtFt

— The White House (@WhiteHouse) August 16, 2021
Kirby went on to say, "U.S. Southern Command is working to assess damage, develop common operational pictures and provide life-saving support for the people of Haiti."
Kirby said the aircraft would help provide a clear picture of the aftermath so they could help direct ground crews to those who are in need of help.