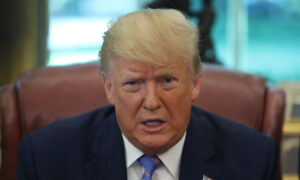 President Donald Trump on Tuesday urged Republicans to cease all discussion with the Democrats about a bipartisan proposal to launch a commission tasked with investigating the Jan. 6 Capitol breach in Washington.
"Republicans in the House and Senate should not approve the Democrat trap of the January 6 Commission. It is just more partisan unfairness and unless the murders, riots, and fire bombings in Portland, Minneapolis, Seattle, Chicago, and New York are also going to be studied, this discussion should be ended immediately," Trump said, referring to the Black Lives Matter riots that occurred in cities across the nation last year.
"Republicans must get much tougher and much smarter, and stop being used by the Radical Left. Hopefully, Mitch McConnell and Kevin McCarthy are listening!"
The House is expected to soon vote on legislation that would launch a 9/11-style commission to investigate the breach of the U.S. Capitol and related events.
The two top House Republicans, Minority Leader Kevin McCarthy (R-Calif.) and Minority Whip Steve Scalise (R-La.), oppose the bill. Like Trump, McCarthy said the proposed commission affords do not do enough to examine the riots that rocked multiple cities last year while focusing entirely on the events of Jan. 6.
"Given the political misdirections that have marred this process, given the now duplicative and potentially counterproductive nature of this effort, and given the Speaker's shortsighted scope that does not examine interrelated forms of political violence in America, I cannot support this legislation," McCarthy said in a statement.
The White House on Tuesday came out in support of the legislation.
"While the Federal Government has already begun taking action to improve the safety and security of the U.S. Capitol, the Administration supports the proposed bipartisan, independent National Commission to study and investigate the facts and circumstances surrounding the January 6, 2021 attack on the Capitol," the Biden administration said.
Trump issued the statement shortly after the bipartisan Problem Solvers Caucus endorsed the creation of the commission. The caucus did not immediately respond to an emailed request for comment.
Rep. John Katko (R-N.Y.) the sole Republican sponsor of the bill, did not immediately respond to a request for comment.
Zachary Stieber and Jack Phillips contributed to this report.