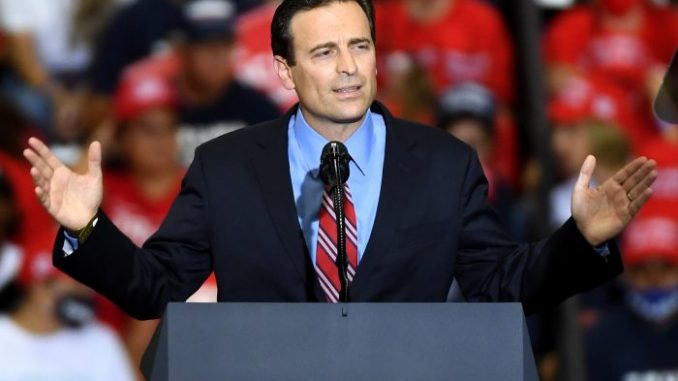 OAN Newsroom
UPDATED 3:09 PM PT – Tuesday, August 17, 2021
Adam Laxalt has become the first big name Republican to throw his hat in the ring to take down Democrat Sen. Catherine Cortez-Masto in Nevada. Officially launching his campaign on Tuesday, Laxalt highlighted his kids love of Star Wars because of the clear distinctions between good versus evil.
He went on to add the fight for the U.S. today has been a similar fight the Resistance faced in the hit space opera film series.
"Right now, it seems like the wrong side is winning. The radical left, rich elites, woke corporations, academia, Hollywood, and the media. They're taking over America," he asserted. "That's your empire, right there. Telling lie after lie. Making excuses for chaos and violence."
Laxalt was the former attorney general of Nevada and the youngest in the U.S. at the time he took office in 2015 at age 35. While attorney general, he focused on protecting his state from federal government encroachment. He also created the state's Office of Military Legal Assistance, which was the first in the nation program to provide free legal services to veterans in Nevada.
It's official. I'm running for the United States Senate. Watch my announcement video and click here to help our campaign! >> https://t.co/k0guHubVAG pic.twitter.com/ufzmq0F48c

— Adam Paul Laxalt (@AdamLaxalt) August 17, 2021
In 2018, Laxalt made a run at the governors mansion to hold it for Republicans. He was defeated by Democrat Steve Sisolak by four points in that race.
In 2020, he was a co-chair of 45th President Donald Trump's campaign in Nevada. Following the election, he unsuccessfully tried to challenge mail-in ballots alongside the national campaign after allegations of mail-in voter fraud surfaced.
Making his third statewide run, he has already received high profile endorsements from national Republicans. Arkansas GOP Sen. Tom Cotton appeared at a recent event with Laxalt, where Cotton endorsed him before the former attorney general announced his run.
Cotton implied the path for Republicans to retake the Senate runs through the Battle Born State.
"That change starts right here, in Nevada, when Adam Laxalt sends Cathy Cortez-Masto packing home for Nevada," he stated. "Adam Laxalt is going to the United States Senate for the Battle Born state in 2022."
Such a tremendous honor to receive your support. Thank you, Sen. @TomCottonAR! Let's take back the Senate and save our country! https://t.co/g4A5Mwc3nJ

— Adam Paul Laxalt (@AdamLaxalt) August 17, 2021
Laxalt would first need to defeat a political novice and veteran in the GOP primary, although he has been the only big name running so far. If he were to win the primary, he would go forward to take on Masto for her seat and win statewide for the second time.
Masto took over for the former Democrat Senate Leader Harry Reid when he retired in 2016. She won the state alongside Democrat presidential nominee Hillary Clinton by less than three points.
Laxalt hopes to take advantage of the narrow gap between recent statewide Democrat victors and their Republican challengers. If he wins, he would flip this Senate seat for the Republicans for the first time since his grandfather, Sen. Paul Laxalt, won the seat in 1980.