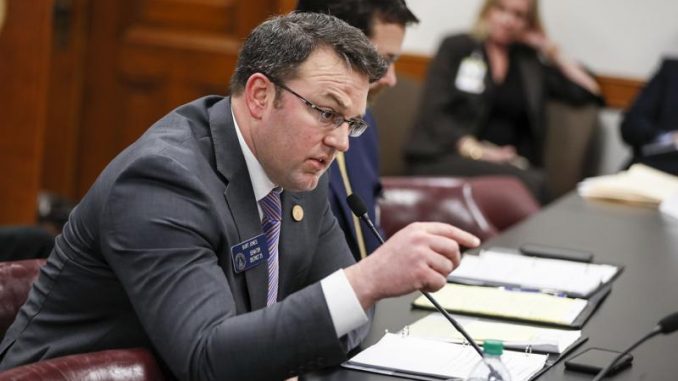 OAN Newsroom
UPDATED 4:00 PM PT – Tuesday, August 10, 2021
State Sen. Burt Jones (R-Ga.), a stalwart supporter of President Trump, has said he hoped to continue the legacy of America First as Georgia's next lieutenant governor. In his first campaign ad released this week, Jones said he wanted to bring the Georgia GOP in a more conservative direction.
Jones has been a staunch proponent of President Trump's claims the election in Georgia was stolen. Since November, Jones has been leading the charge to look into the election in Fulton County.
For the Republican's continued push, he was stripped of his committee assignments in January. However, he did receive the praise of President Trump for his efforts.
"Burt Jones,  I want to thank you Burt, for being here," Trump stated. "…He's a man of courage. Thank you very much, Burt. I appreciate everything you're doing and so does this big crowd."
As a proven business leader, consistent conservative, and champion for Georgia families, I'm running for Lieutenant Governor to fight for President Trump's America First Agenda and put the people of Georgia back in charge!

Join us ➡️ https://t.co/axoGKoRhqC pic.twitter.com/ilboQR6Xbw

— Burt Jones (@burtjonesforga) August 10, 2021
Despite being cut from his assignments, he has continued to push for audits into the election. Speaking to One America News recently, Jones said he was disappointed in the Republican leadership in his state.
"It's unfortunate that we were unable to get it to the special session to address some of those glaring issues that we witnessed during the election cycle," he expressed. "A group of people that sit in the leadership posts did not want to listen to us rank and file election officials."
Incumbent Lt. Gov. Geoff Duncan (R) was the driving force in throwing Jones and others off their committee assignments for questioning the 2020 election results. Following his efforts to force the Democrat Party line in the state, Duncan lost popularity among the Republican base and announced he would not run for a second term.
As Lieutenant Governor, I'll fight for the future of every Georgian by:

✅Creating jobs & cutting taxes
✅Boosting K-12 funding & cutting the cost of higher ed
✅Strengthening election integrity
✅Standing with our heroes in law enforcementhttps://t.co/qLWrN8eL35

— Burt Jones (@burtjonesforga) August 10, 2021
Instead, he planned on forming an advocacy group for so-called moderate Republicans in the post Trump era. This has left Jones to face only one major opponent for the GOP nomination. President Pro Temp of the Georgia Senate Butch Miller (R) threw his hat in the ring a few months ago.
Miller has been an outspoken critic of President Trump following the election. For his criticisms, he received the 45th president's ire, who asked any other Republican to run against him.
Being the only other option at this time, President Trump could very well give Jones the boost he needs if he gets the endorsement.