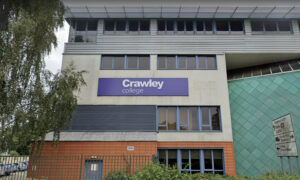 A teenager appeared in court on Wednesday after being charged following an incident at Crawley College on Monday when shots were fired.
Sandijs Dreimanis, 18, of Barton Walk in Crawley, West Sussex, England, was named by police earlier in the day and "charged with possession of an imitation firearm with intent to cause fear of violence, two counts of assault occasioning actual bodily harm, and possession of a bladed article on a school premises."
Dreimanis did not enter pleas to the charges when he appeared at Crawley Magistrates' Court.
Magistrate Paul Dalby told Dreimanis that "the allegation involving a firearm can only be dealt with at the Crown Court, and as the other matters occurred at the same time they too will be dealt with at the Crown Court.
"Until then you will be remanded in custody," he added.
Armed police were dispatched to Crawley College on Monday afternoon after multiple people called reported gunshots being fired.
By the time the police arrived, Dreimanis had already been detained by a teacher and a member of the support staff, both of whom sustained minor injuries, which were not gunshot wounds.
A blank firing handgun and a knife were seized. Sussex Police said they were liaising with counter-terror specialists on Monday evening but later announced that the incident is being treated as non-terror-related and isolated, and no one else is being sought in connection with the incident.
Crawley College said on Tuesday that the college would be closed until at least Thursday.
College principal Vicki Illingworth said on Tuesday that the college community was "shaken" by the incident.
"I cannot praise the courage, resilience, and support shown by our staff enough," she said.
"They have been incredible and the care and compassion they shared with our students and with each other continues [sic] to fill me with admiration," she added.
"Their heroic actions, and the rapid response of emergency services, helped to protect our college community."
Police have also applauded the actions of the two heroic college staff.
"I'd personally like to thank everyone who helped to quickly bring this incident to a safe conclusion, especially the two members of college staff whose heroics have not gone unnoticed," Chief Inspector Shane Baker of the Crawley Neighbourhood Policing Team said on Tuesday.
"They put themselves in harm's way in order to protect their students, fellow employees, and the wider public, and I am hugely grateful for their quick-thinking actions."
PA contributed to this report.