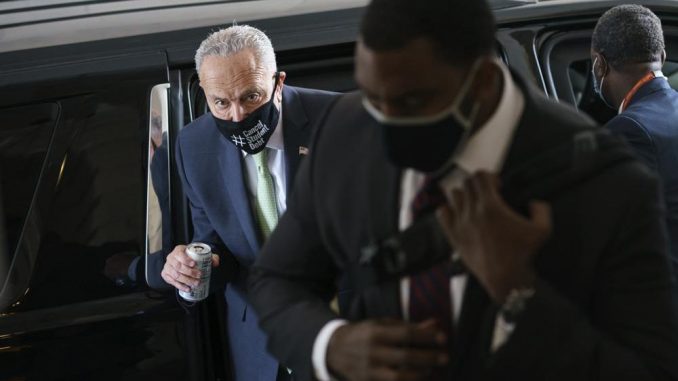 OAN Newsroom
UPDATED 8:57 AM PT – Monday, August 9, 2021
68 senators voted on Sunday night to end debate on the $1.2 trillion bipartisan infrastructure deal known as the Infrastructure Investment and Jobs Act. The deal, after four months of negotiations, reached over 2,700 pages, which has included items from both Democrat and Republican wish lists.
"It's been a long day, but we have plowed through, as I have intended," Senate Majority Leader Chuck Schumer (D-N.Y.) stated. "The cloture motion on the final bill has passed by a very handsome, overwhelming vote."
Despite the air of cooperation circulating the Capitol, Democrats haven't passed up an opportunity to remind their Republican cohorts that while the bipartisan bill is currently on the table, it would quickly be followed by their massive reconciliation proposal.
My statement on the infrastructure bill: pic.twitter.com/LAyk2wnUUU

— Senator Todd Young (@SenToddYoung) August 9, 2021
"We will move forward to wrap this up as expeditiously as possible and then move on to the budget resolution with reconciliation instructions.," Schumer explained. "The bipartisan infrastructure bill and the budget resolution with reconciliation instructions."
In the wake of refusing to capitulate to Schumer's type of cooperative leadership, some Republicans have reportedly prepared to utilize a procedural loophole that could extend the clock for more than 24 hours before a vote could be held.
One such senator, Tennessee's Bill Hagerty (R), has made it clear to both his fellow Republicans and the Democrats across the aisle that he would not move to speed up debate.
"Democrats say that they want amendments, but they can't take yes for an answer," he expressed. "Democrats true intention is to rush this bill through so that they can hurry up and light the fuse on the $3.5 trillion spending spree, a socialist debt bomb, then leave town for vacation."
I want to vote on amendments, and today I tried to call up several for Senate consideration, but my Democrat colleagues objected, revealing their true intention—so they can rush this through and get to the $3.5 trillion tax-and-spend spree. pic.twitter.com/KLqTMGrO41

— Senator Bill Hagerty (@SenatorHagerty) August 9, 2021
The House is currently in recess, with both infrastructure packages waiting for discussion upon its return in September.