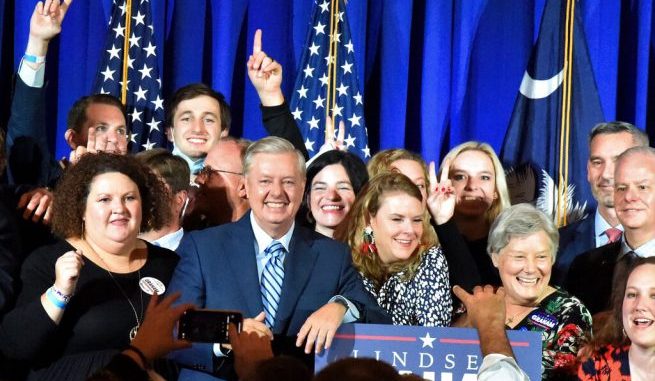 OAN Newsroom
UPDATED 6:43 AM PT – Wednesday, November 4, 2020
The GOP claimed major victories across the country on Election Day. Top Republican leaders, including Senate Majority Mitch McConnell (R-Ky.) and Sen. Lindsey Graham (R-S.C.), defended their seats by a large margin.
McConnell took to the stage in Louisville, Kentucky after clinching a seventh term.
"Kentucky, I'm humbled and grateful that you've rehired me to keep fighting for your families and serving our commonwealth for the next six years," he stated.
While speaking to his incumbents, he stressed the importance of nationwide unity.
"Our nation has real challenges and real adversaries, but our fellow citizens are not our enemies," McConnell continued. "There is no challenge that we cannot overcome together."
Meanwhile in South Carolina, Graham secured his seat after beating Democrat challenger Jaime Harrison. The Republican thanked his supporters and also poked fun at Democrat donors.
"To all the pollsters: you have no idea what you're doing," he stated. "To all the Democrats in California, New York: you wasted a lot of money..this is the worst investment in American politics."
This came after his opponent broke fundraising records after Democrat donors pumped $57 million into the race in hopes of flipping the seat.
Fellow Republicans, including Sen. Tom Cotton (R-Ark.), Sen. John Cornyn (R-Texas) and Sen. Joni Ernst (R-Iowa) have also held on to their seats.
Meanwhile, Democrat incumbents, including Cory Booker (D-N.J.), Richard Durbin (D-Ill.) and Mark Warner (D-Ind.) secured their position in the upper chamber.
Republican nominee Tommy Tuberville won by a landslide in Alabama against Democrat Sen. Doug Jones. That Senate race became one to watch after President Trump endorsed the political newcomer.
"The liberals of California, New York and Washington, D.C. learned the hard way that Alabama Senate seat cannot be bought," Tuberville stated.
The latest victories are integral for the GOP to maintain its majority in the upper chamber.