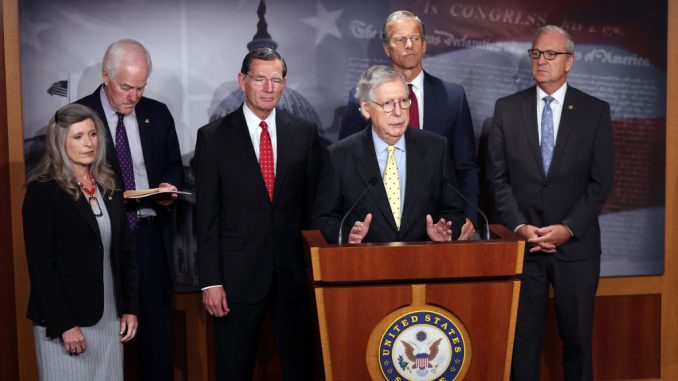 OAN Newsroom
UPDATED 9:02 AM PT – Thursday, August 5, 2021
Top Republicans have pledged to do all they can to stop Democrat efforts in passing a massive $3.5 trillion budget reconciliation package. During a press conference on Wednesday, Senate Minority Leader Mitch McConnell (R-Ky.) argued the proposal isn't in the best interests of the American people or the economy.
He asserted passing the package would put the nation's economic recovery at risk. McConnell went on to point out the economy has already been threatened by raging inflation caused by the COVID-19 relief bill passed earlier this year.
Additionally, Senate Minority Whip John Thune (R-S.D.) warned the bill would be a catastrophe for many Americans.
"We're going to do everything we can to stop it. And I hope that we have some Democrats that will help because if this is in size and scope and scale of what we hear and believe, it's going to be catastrophic for a lot of folks around the country, namely a lot of the farmers and ranchers who would get hit with the double death tax," said Thune.
Dems are refusing to learn from their mistakes. Inflation is skyrocketing, & Americans are paying higher prices after Dems' wild spending spree earlier this year. Now they want to spend $3.5 trillion MORE. Do they know this is taxpayers' hard-earned money – not monopoly money? pic.twitter.com/15JRT0QBGM

— Senator John Thune (@SenJohnThune) August 4, 2021
Under the current markup of the Senate, Republicans would need one Democrat to join them in order to block the budget from being passed through reconciliation. In the meantime, two of the more modest Democrats, Sens. Joe Manchin (W.Va.) and Kyrsten Sinema (D-Ariz.), have shown opposition towards the $3.5 trillion bill, suggesting they would fight to lower its price tag.