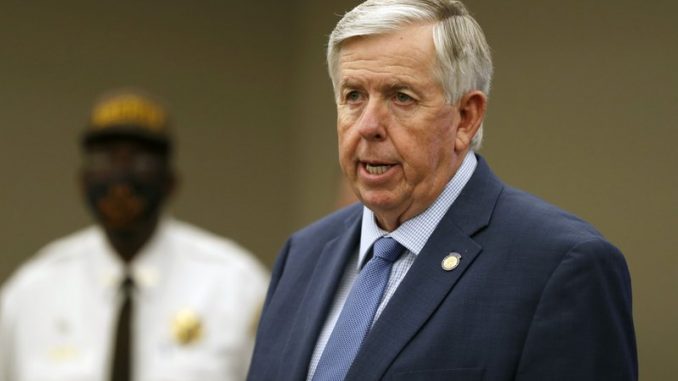 OAN Newsroom
UPDATED 10:49 AM PT – Thursday, July 8, 2021
A COVID-19 liability bill was signed into law by Missouri Gov. Mike Parson (R) on Wednesday despite its rocky past to get through Republicans and Democrats. The new legislation will protect health care providers, schools, churches and businesses from lawsuits stemming from the coronavirus pandemic.
The bill, SB51, prevents them from being held liable for exposure to COVID-19 unless the plaintiff can prove the individual or entity acted with "willful or reckless conduct that caused exposure to the virus." The Republican governor said the bill aims to protect more than 200 businesses that helped by changing their practices in order to accommodate shifting needs throughout the pandemic.
"I want people to sure understand, this is to protect those businesses," Parson stated. "The last thing we need to do is punish anyone for trying to help in the middle of a crisis or pandemic, and my hats off to all those companies willing to do that and make Missourians safe."
Today, I signed SB 51 into law, which protects health care providers, businesses, religious organizations, and others from being held liable in COVID-19 exposure civil actions.

— Governor Mike Parson (@GovParsonMO) July 7, 2021
While the bill was signed into law, it initially struggled as it was killed and then revived before eventually being passed in the last hour of the 2021 legislative session. However, Republicans and Democrats were both divided on the bill before it gained final approval.
Democrat Wes Rogers had previously voiced concerns during one of the bill's initial votes as it could give negligent businesses immunity from lawsuits, while small business owners were concerned they could be exposed to more liability. However, Republican state Sen. Tony Luetkemeyer, who sponsored the bill, said it would hold "bad actors" accountable.
"This bill really does those things, it holds bad actors accountable," he asserted. "But those companies that are really just trying to do their best, those entities, they're protected."
The liability law will go into effect towards the end of August.