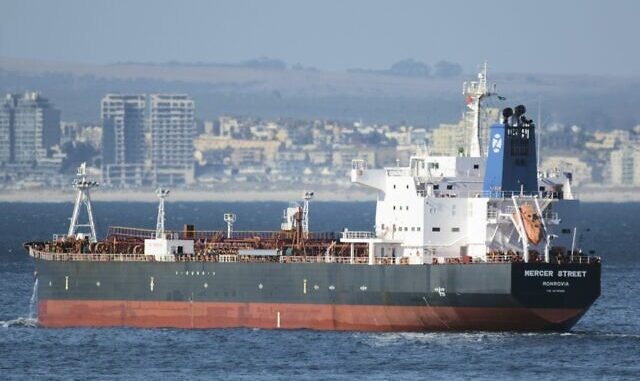 OAN Newsroom
UPDATED 9:33 AM PT – Monday, August 2, 2021
The international community is condemning Iran for launching an attack against an oil tanker, in turn, killing two members of its crew. The United States, United Kingdom and Israel all said they have proof to show Iran was behind yet another attack on an oil tanker in the Middle East.
In a statement Sunday night, U.S. Secretary of State Antony Blinken said, "we join our partners and allies in our strong condemnation of the attack against the Mercer Street, a commercial ship that was peacefully transiting through the North Arabian Sea in international waters."
On Thursday, the Mercer Street was attacked with what has been determined to be one-way explosive unmanned aerial vehicles. However, Iran has denied any involvement.
"We see these distractions every once in a while, especially when good things are happening in the region," stated Iranian Foreign Ministry spokesperson Saeed Khatibzadeh. "I have stated this once and I will repeat it, the regime occupying Jerusalem has brought with it insecurity, violence, terror and war wherever it has gone. And for this reason, those responsible are those who have brought this regime to the region."
Meanwhile, British Foreign Secretary Dominic Raab called the attack "unlawful and callous" as well as "deliberate, targeted and a clear violation of international law." Both have said their respective countries are reviewing possible response scenarios, but the strongest condemnation came from Israeli Prime Minister Naftali Bennet.
During a cabinet meeting Sunday, Bennett said Iran will be held to account for allegedly carrying out a drone attack on the tanker. The prime minister added, Israeli Intelligence has the proof of Iran's involvement in that attack. Bennett also said Iran's behavior poses a danger to global maritime trade.
"I just heard that Iran, in a cowardly manner, is trying to shirk its responsibility for the incident," stated the Israeli prime minister. "They are denying it, so I determine unequivocally: Iran is the one that carried out the attack on the ship. Iran's bully manners are dangerous, not only to Israel, but also harm global interests, the Freedom of Navigation and international trade."
Bennett stressed Israel would deliver a response to Iran for its actions in its "own way."