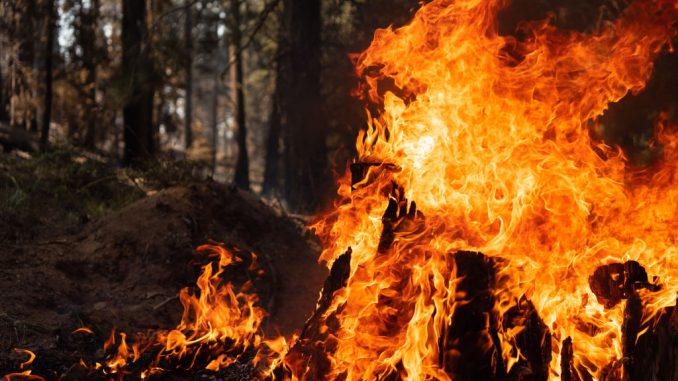 OAN Newsroom
UPDATED 1:28 PM PT – Saturday, July 24, 2021
Firefighters have continued to battle some of the nation's largest fires in both California and Oregon. In California, the so-called Tamarack Fire sparked on July 4 by lightning, has burned more than 90 square miles of national forest land south of Lake Tahoe.
More than 1,200 firefighters are currently battling the blaze and said they expect extreme fire behavior into the weekend, citing high winds and high temperatures. Meanwhile, Gov. Gavin Newsom (D-Calif.) announced the addition of a dozen firefighting aircrafts to the state, nine of which were sent to the fire. California is now using more than 60 aircrafts in its fight against the wildfires.
The fire continued its march across the border with Nevada earlier this week, prompting new evacuation orders for the surrounding area. The fire has so far destroyed at least 10 buildings and is about a mile away from a Nevada community of around 1,200 residents.
Those who have been evacuated from their homes said they teeter between feelings of panic and hope that their homes survived. "I think that all the volunteers and everyone here who's helping, they're doing a great job," said Bill Miller, an evacuee from Markleeville, California.
As of Friday, the Tamarack Fire was only four percent contained. Meanwhile in Oregon, firefighters continued their fight against a blaze tearing through the western part of the state. Progress has been made in the Bootleg Fire described as the biggest fire in the country, as it sits at around 40 percent containment and has consumed more than 400,000 acres.
The fire that sparked on Jan. 6 still poses a threat to thousands of homes and is so large that reports said it's creating its own weather. Firefighters said the blaze is being pushed by 30 mile-per-hour winds, which forced them to retreat to a safety zone.
Altogether, there are currently more than 80 wildfires burning in the U.S., which have consumed almost 1.5 million acres.