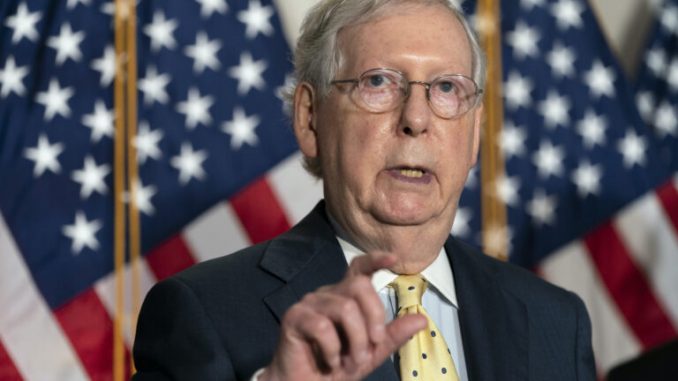 OAN Newsroom
UPDATED 7:56 AM PT – Thursday, July 22, 2021
Joe Biden's promise of unity appears to be nowhere to be seen on Capitol Hill. The two major parties continue to clash on the bipartisan infrastructure deal as Senate Republicans block a vote to open debate on the nearly $1 trillion measure.
On Wednesday, the GOP derailed Majority Leader Chuck Schumer's (D-N.Y.) attempt to jam through the incomplete legislation in a 49-to-51 vote, which fell short of the 60 it needed.
Democrats are playing Russian roulette with taxpayer dollars. Their latest reckless tax and spending spree is threatening the stability of our economy, while their last one continues to dampen our recovery. pic.twitter.com/uRFRlZwF4z

— Leader McConnell (@LeaderMcConnell) July 21, 2021
Minority Leader Mitch McConnell (R-Ky.) said it would be hard to make a final decision in good faith when there is no text, no outcome, no bipartisan agreement and nothing for the congressional office to evaluate.
"And certainly nothing on which to vote, not yet," said the top Republican. "So obviously, as the democratic leader tries to force a closure vote on a bill that does not exist, it will fail. Around here we typical write the bills before we vote on them."
McConnell warned Republicans are not taking their decision on the trillion dollar measure lightly, especially when it will costs the American taxpayers this much money.
"We're talking about long term infrastructure investments that will pay out over many years, but he (Schumer) wants to vote before there's any agreement," noted the Kentucky lawmaker. "So this stunt is set to fail. The democratic leader will be free to change his vote and move to reconsider whenever a bipartisan product actually exists."
McConnell said Democrats should understand that a 'no' on the cloture vote doesn't mean 'no' forever considering that Senate Democrats used the same tactic to delay a vote on the CARES Act in March 2020, which had a complete text and was introduced during an actual emergency.
Meetings about the so-called bipartisan infrastructure bill are reportedly set for Monday when more tension on Capitol Hill is sure to pop up.