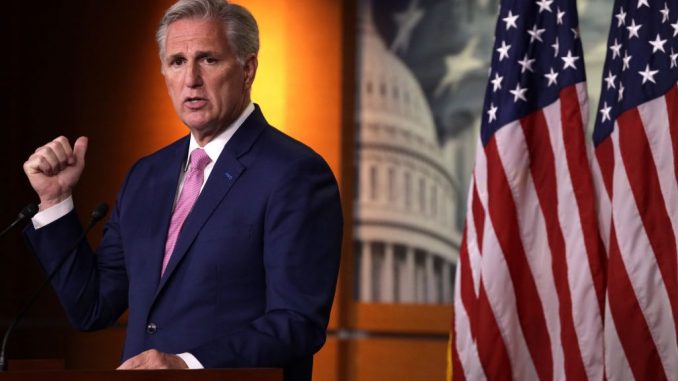 OAN Newsroom
UPDATED 4:58 PM PT – Wednesday, July 21, 2021
House Minority Leader Kevin McCarthy (R-Calif.) has pulled all Republican appointees from Nancy Pelosi's (D-Calif.) Jan. 6 commission. McCarthy made the announcement on Wednesday after Pelosi banned Reps. Jim Jordan (R-Ohio) and Jim Banks (R-Ind.) from serving on the committee.
"With respect for the integrity of the investigation, with an insistence on the truth and with concern about statements made and actions taken by these members, I must reject the recommendations of Representatives Banks and Jordan to the select committee," said Pelosi.
McCarthy joined other House Republicans in a press conference on Wednesday where he slammed Pelosi for playing politics, calling her move unprecedented and a breach of power.
Unless Speaker Pelosi reverses course and seats all five Republican nominees, Republicans will not be party to their sham process and will instead pursue our own investigation of the facts.

My full statement: https://t.co/RmgeBFo41j

— Kevin McCarthy (@GOPLeader) July 21, 2021
In a statement earlier, McCarthy also called it a "sham process" and promised Republicans would pursue their own investigation into Jan. 6 if Pelosi didn't rescind her decision. This leaves Wyoming Rep. Liz Cheney as the sole Republican on the committee.