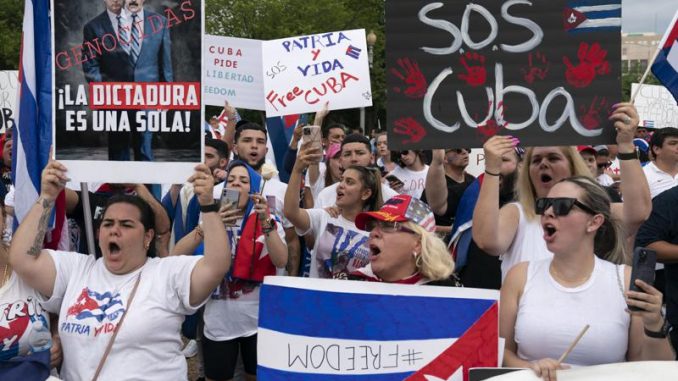 OAN Newsroom
UPDATED 9:47 AM PT – Tuesday, July 20, 2021
Hundreds of protestors traveled to Washington, D.C. to demand action from the Biden administration regarding assistance to the Cuban people. Over the weekend, dressed in red paint to appear bloody and donning Cuban flags, protestors gathered first in front of the Cuban Embassy. They then marched to the White House with the intention to take their message straight to Joe Biden and Kamala Harris.
Signs directed towards Biden and the vice president read "you're sitting by while we die" and "Cuba's blood is on your hands." The masses chanted loudly behind the White House fence in English and Spanish, most notably repeating "people are dying" and "Biden is doing nothing."
"Freedom for Cuba!"
That's what protesters are chanting outside the White House. #SOSCuba @7NewsDC pic.twitter.com/hdESssjqM2

— Alexandra Rodriguez (@_Alexandra_Rod_) July 17, 2021
So far, Biden has expressed interest in intervening to provide free internet access for Cubans on the island. However, many demonstrators believe that is not enough and are demanding military intervention to topple the communist dictatorship as well as free more than 400 citizens who have been detained or are missing for peacefully protesting.
Miami Mayor Francis Suarez has also been an advocate for a humanitarian military intervention.
United we agreed the US government should:

☑️ Provide internet access to the people of Cuba
☑️ Determine consequences for the Cuban militant's unethical treatment of their own people
☑️Help establish a new Haitian government with a free and fair democratic election

— Mayor Francis Suarez (@FrancisSuarez) July 17, 2021
As of now, Biden appears to not be considering that route despite demands from Cuban-Americans. In the meantime, the administration is expected to announce initial steps soon for a response to the Cuban government's repression of pro-democracy protestors, although the swiftness and intensity of these actions remain unclear.