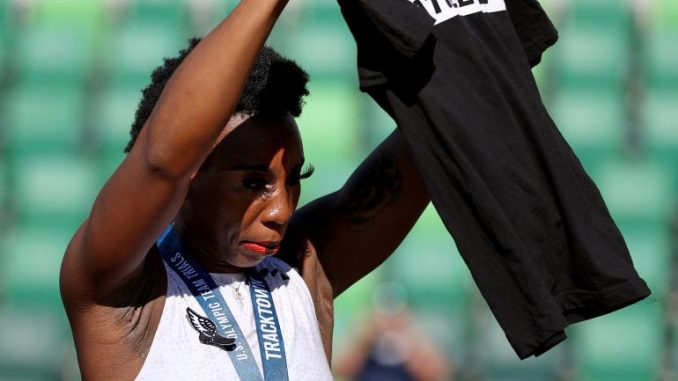 OAN Newsroom
UPDATED 8:42 AM PT – Sunday, July 18, 2021
Olympic hammer thrower Gwen Berry has refused to stand down from her protests of the National Anthem. In an interview on Friday, the Olympian said her protest of the National Anthem after placing third at the trials last month was misunderstood.
In recent weeks, some Republicans have called for Berry's removal from the team. However, Berry responded claiming it is very American to protest the country and that she is only protesting what she sees as unfair treatment of non-white Americans.
"In order for me to respect a song that sings about liberty and justice for us all, I have to actually see that." Olympic athlete Gwen Berry (@MzBerryThrows) on why sports is an effective forum to advocate for social change #TIME100Talks pic.twitter.com/MFgP7zdSG0

— TIME (@TIME) July 16, 2021
"I just don't respect something that doesn't stand for all people, especially minorities in America," said Berry. "I feel like we know the story…Blacks get the worst treatment here. We are not treated as human beings, our lives are not regarded. They're not precious."
Berry also said she believes the International Olympic Committee is in violation of her human rights by not letting her protest on the podium during the games. However, the IOC only allows for protests before a competition, which is a change from the total ban previously instituted.