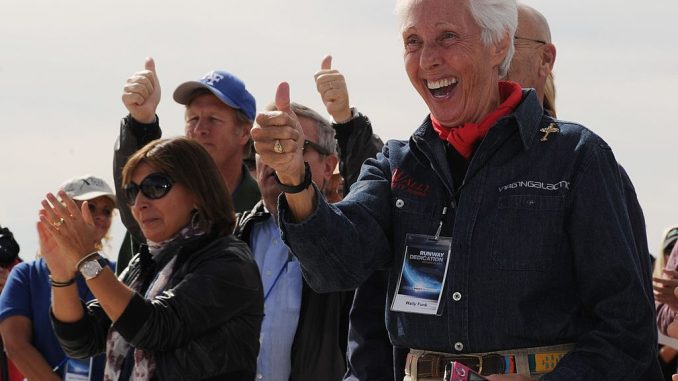 OAN Newsroom
UPDATED 7:51 PM PT – Thursday, July 1, 2021
Jeff Bezos announced Wally Funk will be the fourth person to join him on his rocket company's first human space flight. Bezos honored guest aboard Blue Origin is 82 years of age.
On Thursday, the billionaire and Amazon CEO surprised Funk who will be joining him alongside his brother Mark and the winner of the auction, on the flight scheduled for July 20.
Funk will qualify as the oldest person to ever travel to space after being denied the job of astronaut back in the 1960s due to her gender. The aviation pioneer was one of 13 female fliers who passed NASA's astronaut training program known as Mercury 13, none of whom ended up going to space.
Welcome aboard, Wally. Here's the moment Jeff Bezos asked Wally Funk to join our first human flight on July 20 as our honored guest. https://t.co/ESBJ7bxErK

— Blue Origin (@blueorigin) July 1, 2021
In a video posted to Bezo's Instagram, Funk said "they told me I had done better or completed the work faster than any of the guys." She was also the first female Federal Aviation Administration inspector and the first female air safety investigator for the National Transportation Safety Board.
Funk said she didn't think she'd ever get to go up and is now receiving the opportunity of a lifetime. Bezos said no one has waited longer than Funk.
In the meantime, Blue Origin's first human space flight is set to take off on July 20.