While the global pandemic has brought life-altering experiences, from home-schooling to working from home to home socializing, many people fall prey to uncertainty and anxiety. So a group of people offers free online classes, sharing their method of getting through this distressing time. They have already attracted nearly 2,000 people.
The online Falun Gong class has been offered since the end of October 2020 said Lei Shizhong, one of the organizers.
"An opinion poll shows a 30 percent increase in the number of people in North American willing to learn meditation after the outbreak," he stated. "We also received more inquiries of where they could learn Falun Gong," prompting Canadian Falun Gong practitioners to prepare online exercise classes from last September.
The ancient spiritual discipline, Falun Gong, also known as Falun Dafa, consists of five exercises and moral teachings based on the core tenets of truthfulness, compassion, and tolerance. Its popularity surged in China during the 1990s, reaching 70 million to 100 million adherents by the end of the decade, according to official Chinese estimates at the time.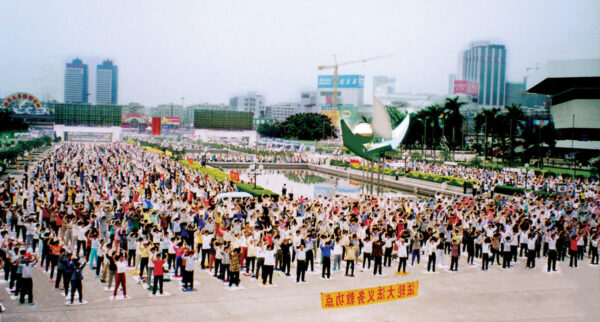 Unsurprisingly, applications to the online classes rose during the pandemic. Lei has added three more sessions each week to meet the increasing demands, and last week, the first class in French was held. Nearly 2,000 people have learned the meditation and four gentle moving exercises of Falun Dafa so far.
Lisa Osanic, councilor of Kingston City of Ontario, Canada, said that the two-hour class helped her sleep well that night. She would like to attend more courses to remember the hand gestures of the five exercises of Falun Gong.
"I have severe arthritis, but today I had no problem with my arms while doing the exercises," a student named Derryce commented after a class.
"I prayed to God a few days ago and said, 'please show me a path to practice,'" said Silke after a class. She runs a high-end eco-resort in British Columbia, Canada. The next day, she stumbled upon a Facebook post of a Falun Dafa teaching course and registered without hesitation.
Many people were initially drawn to Falun Gong because of its healing effects, Lei said. They hope to heal illnesses and keep fit, a similar condition to when the practice was first introduced in China in 1992.
The easy-to-learn exercises are friendly to those with physical disadvantages, added Lei.
"Seeing it [the Falun Gong movements], let people relax," said attendee Janice Nash.
Lei has received feedback about the positive effects on reducing pressure, alleviating pain, and better sleep quality, and many more feel finding the spiritual improvement methods they've sought for life.
One student, Rosemary, left this message after a class: "I think I finally found what I was looking for!" She said she felt the energy flow in her body.
Letters From Officials
Elected officials also sent greeting letters to mark World Falun Dafa Day this year.
"With so many of us feeling uncertain, isolated, and lonely due to the COVID-19 pandemic, thank you for providing Falun Dafa classes online to help our mental, moral, and physical wellbeing," said Councilor Osanic in a letter to the Canadian Falun Dafa Association on April 26.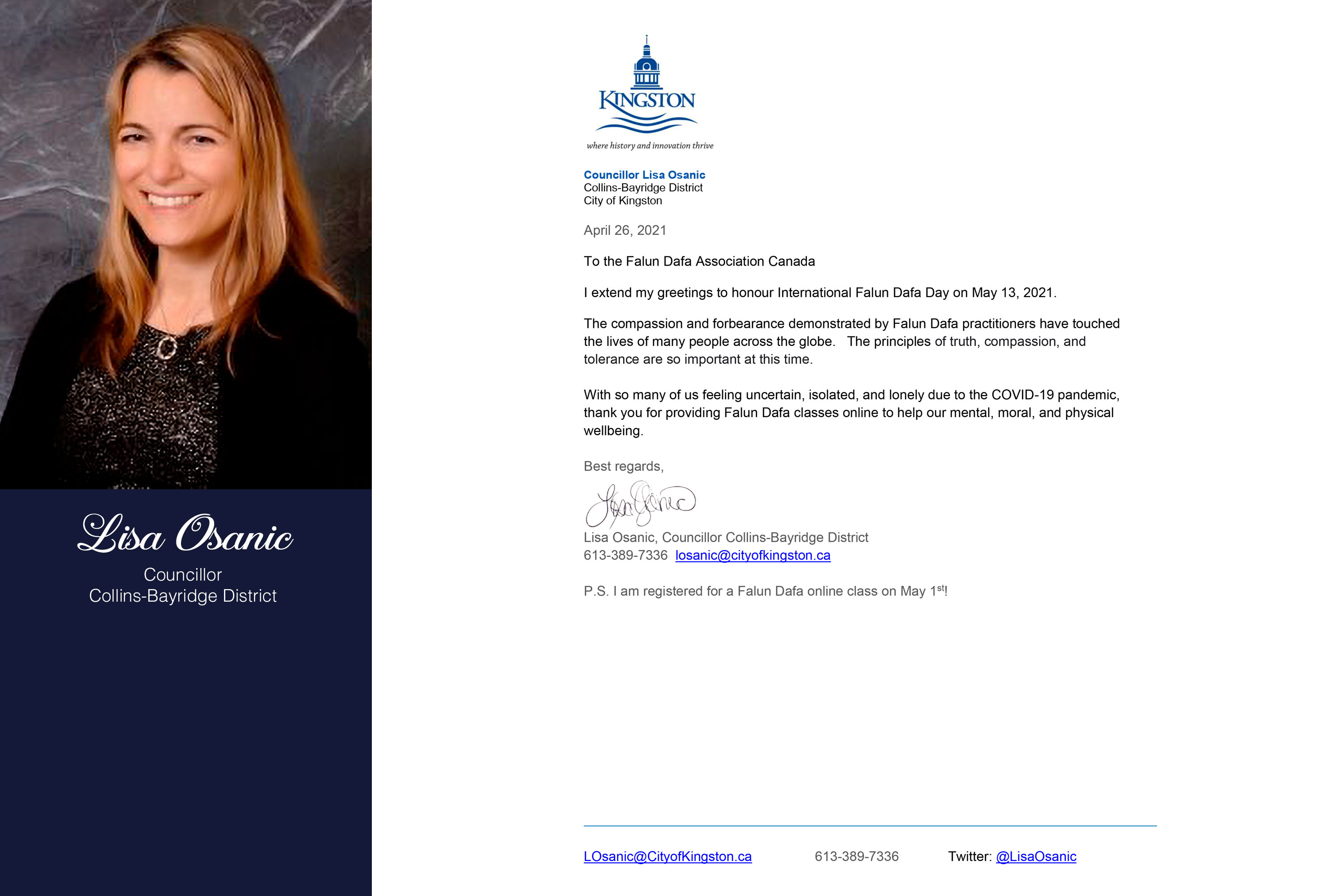 Mayor Colin Basran of Kelowna, British Columbia, stated in her proclamation, "Since its first introduction to the public in China in May 1992, today Falun Dafa is practiced in over hundreds of countries worldwide by people of all ages and backgrounds. It is always taught free of charge by volunteers and can be practiced individually or in groups."
"Their contributions to our society have been particularly pronounced through this pandemic, particularly through the Falun Dafa Association's free online meditation sessions, contributing to the wellness of Canadians as we collectively endure hardship," Canadian MP Marie-France Lalonde stated in her letter.
Phil M. Boyle, Member of the Senate of the State of New York, stated in his proclamation, "Through their practice, people become healthier, happier, and more altruistic.