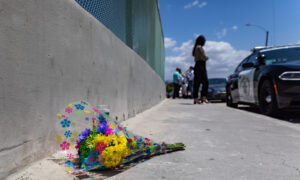 ORANGE, Calif.—A manhunt was underway May 21 after a six-year-old boy was shot and killed in a road rage incident, the California Highway Patrol (CHP) said.
The child was a passenger in a 2014 Chevrolet Sonic being driven north on the 55 Freeway in Orange, Calif.
Police believe the boy's mother, who was driving the car, was the target of road rage, CHP spokesperson Florentino Olivera said.
The boy was sitting in rear right seat of the sedan when shots were fired by someone in a white sedan shortly before 8:15 a.m.
Paramedics soon arrived to the scene and transported the victim to Children's Hospital of Orange County in Orange, where he was pronounced dead.
The 55 Freeway's northbound lane, near Chapman Avenue, was closed May 21 until about 12 p.m. A candle and flowers were laid right above the freeway overpass at Walnut Avenue in commemoration of the six-year-old boy.
The deadly attack occurred within days of reported highway BB gun shootings across Orange, Riverside, and San Bernardino counties.
However, police said the BB gun shootings and the road rage incident were unrelated.
Said Olivera: "It's nothing related to the shootings we've been having lately, it's completely isolated."
The gunman is still at large and has not been identified.
The CHP is asking anyone that was travelling in the area of the shooting between 7:55 a.m. and 8:15 a.m. to check their dashboard cameras for footage that could prove useful to investigators.
Anyone with information is asked to contact the CHP's Santa Ana office at 714-567-6000.