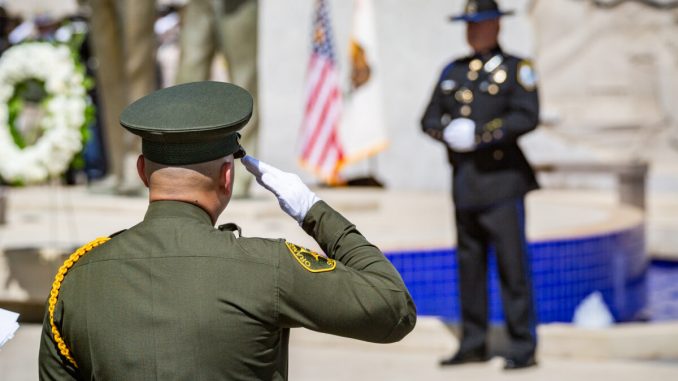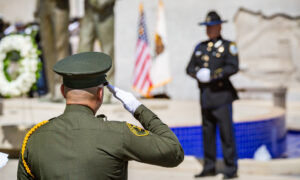 TUSTIN, Calif.—The Orange County Sheriff Department's advisory council hosted a memorial May 27 to pay tribute to the 53 peace officers that have been killed while in the line of duty throughout county.
The event is held at Orange County Peace Officers' Memorial site in Tustin every year, although last year's in-person event was cancelled due to COVID-19.
While the event had a somber tone, organizers did note that this was the seventh consecutive year that a peace officer's name has not been added to the memorial wall, meaning there have been no line-of-duty deaths since 2014.
"While that is a positive milestone, one we should always strive and be grateful for, we should not let this fact mislead us to thinking that the inherent risks of this profession have subsided," said Orange County Sheriff Don Barnes. "2020 was one of the highest risk years for Orange County police officers. We faced a pandemic, civil unrest, wildfires…as well as the day-to-day hazards of enforcing the law, and protecting the public. These challenges were all undertaken during a time of intense criticism against law enforcement."
Barnes continued: "The rights and safety we enjoy as Americans, does not endure unless we have people willing to act in defense of those rights. We are fortunate to have exceptional men and women who take on that role by putting on the badge every day, and we are eternally grateful for those who pay the ultimate sacrifice for our rights and safety."
The memorial consists of a curved wall with plaques featuring the names and titles of all 53 fallen officers. Sitting in front of those plaques during the memorial was an officer from a department matching the department the fallen officer was from.
Each of the 53 fallen officers' names were read aloud.
"This memorial is dedicated as a reminder of the bravery of Orange County peace officers," Orange County Sheriff's Department advisory council president Wayne Pinnell said. "Individuals whose names appear on these plaques willingly put themselves between us and those that have would have harmed us. Each of them paid the ultimate price in the name of public service."
The audience was then directed to look into the sky, where five helicopters from the Orange County Sheriff's Department, California Highway Patrol, Huntington Beach Police Department, and the Orange County Fire Authority flew by in an upside down "V" formation.
After, red roses were pinned to the plaques of the fallen officers by family members and other officers.