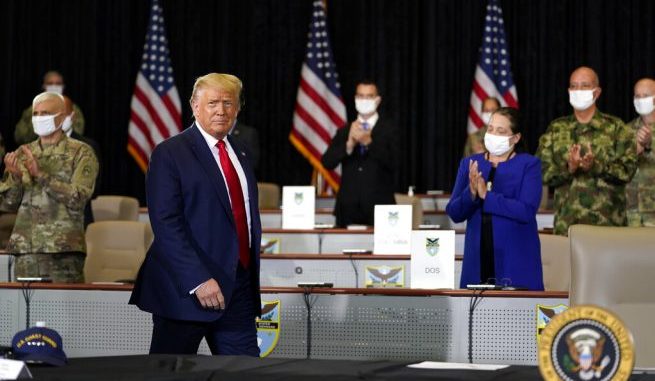 OAN Newsroom
UPDATED 1:20 PM PT —Friday, July 10, 2020
President Trump recently praised military and law enforcement agencies that have been a part of SOUTHCOM's enhanced counter-narcotic operations. During a briefing at the U.S. Southern Command in Florida, the president discussed how increased efforts to stop the flow of narcotics across the Western Hemisphere have already made a huge difference.
Our message to drug traffickers is loud and clear: "You will not threaten our citizens, you will not poison our children, and you will not infiltrate our borders." pic.twitter.com/A9ohy9gHoW

— The White House (@WhiteHouse) July 10, 2020
According to him, thousands of drug traffickers have been arrested and billions of dollars in narcotics have been seized since he launched the mission in April this year.
The president added his administration will continue these efforts.
"With the help of the heroes here at SOUTHCOM, Coast Guard, CBP, DEA and law enforcement will work relentlessly to seize illegal drugs, arrest vile traffickers, …and dismantle criminal cartels that are responsible for the deaths of thousands of Americans," he said.
"I'm proud to say the efforts are making a difference, Mr. President, & they're saving lives."#SOUTHCOM's Adm. Craig Faller, today briefing @POTUS Donald J. Trump on the progress of enhanced #CounterDrugOPS in #LatinAmerica & the #Caribbean. #EnhancedCN @DeptofDefense pic.twitter.com/adrlqPttaL

— U.S. Southern Command (@Southcom) July 10, 2020
The president stressed protecting our borders in Central America, South America and the Caribbean has saved lives and made communities safer.