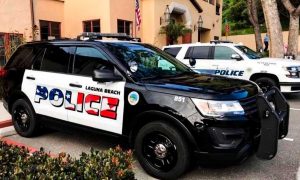 Laguna Beach's chief of police has resigned, just four months after taking up the position.
Chief Robert Thompson and the City of Laguna Beach agreed to terminate their employment relationship. His resignation is effective May 28, and he will be compensated through June 30.
In his stead, Cpt. Jeff Calvert, a 24-year law enforcement veteran, is stepping in as Laguna Beach's interim police chief.
City manager John Pietig, who is soon retiring, is responsible for choosing the police chief and interim police chief.  If a decision is not made prior to his Pietig's retirement, his successor will be taked with choosing the next chief.
"The public safety of our community is paramount, and I have full faith that Captain Calvert will guide the Laguna Beach Police Department through this transition to ensure community and police force safety," Pietig said in a statement.
Thompson was hired Jan. 18 to replace former police chief Laura Farinella. He previously served as the police chief of Dixon, Calif.
No comments have been made as to the reason for Thompson's resignation, and requests for comment were not immediately returned.
"I'm disappointed to see Chief Thompson go, but I'm really thrilled to see Jeff Calvert is as our interim chief of police," Councilmember Peter Blake told The Epoch Times.
Blake said Calvert is the right choice for the interim chief position because of his vast experience in law enforcement.
Incoming city manager, Shohreh Dupuis told The Epoch Times that at this point, there is no timeline for how long Calvert will serve as the interim chief.