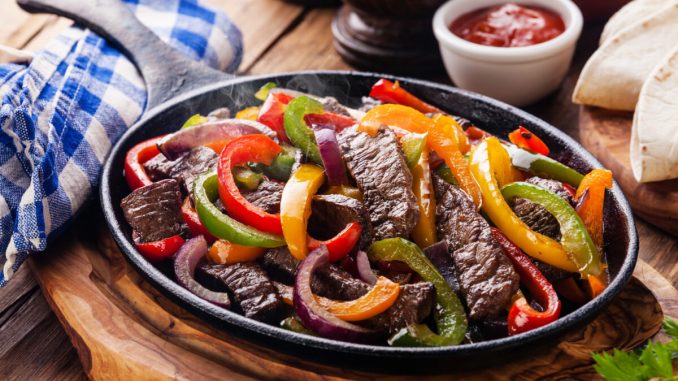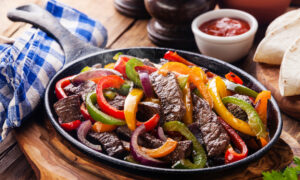 Memorial Day signifies the beginning of summer as well as honoring our soldiers who lost their lives in battle. It's a time when friends and family often gather together. This year, why not serve these incredibly tasty fajitas? Memorial Day weather can be tricky at best. Just to be on the safe side this year, think about making this Mexican-style dish from the comfort of your kitchen.
Fajitas were all the rage a few decades back, when Tex-Mex cooking burst onto the culinary scene. Fajita comes from a word meaning "belt," and some say that using skirt steak with its unique string-like texture looks like a belt.
Stir-frying tender beef strips along with colorful vegetables and Mexican spices is a quick technique that produces a pretty fajita filling for warm corn or flour tortillas. Make sure to use a high-sided skillet or wok to help cook the ingredients evenly.
This is a very flexible dish, since you can serve it rolled in flour tortillas for a quick family dinner, or open-face on corn tortillas for a fun Southwestern-style party. For a party, you can easily multiply this recipe and add a pot of black beans and some spicy cooked rice to round out the menu. Small bowls of this colorful salsa make a pretty presentation alongside the fajitas.
To drink? Don't forget some ice-cold Mexican beer or fruit margaritas.
Beef Fajitas With Avocado-Corn Salsa and Warm Corn Tortillas
Serves 4 to 6
For the Salsa
2 large tomatoes, peeled, seeded, and finely diced
1/2 cup corn kernels (fresh or frozen and defrosted)
2 tablespoons finely chopped cilantro
2 tablespoons finely chopped parsley
1 jalapeño chile, seeded and minced
2 tablespoons fresh lemon juice
Salt
Freshly ground black pepper
1 medium ripe avocado, peeled and cut into 1/2-inch chunks
For the Fajitas
3 tablespoons vegetable or olive oil, divided
1 pound skirt steak or flank steak, cut into 2-inch by 1/2-inch strips
1 medium red onion, thinly sliced
1 medium red pepper, seeded and cut into thin slices
1 medium yellow pepper, seeded and cut into thin slices
1 jalapeño chile, seeded and minced
2 garlic cloves, minced
1 medium tomato, peeled and diced
3 tablespoons fresh lime juice
1/2 teaspoon ground cumin
2 tablespoons finely chopped cilantro
Salt
Freshly ground black pepper
For the Garnish
1 cup sour cream
Warm corn or flour tortillas
Cilantro leaves
Prepare the salsa. Combine the tomatoes, corn, cilantro, parsley, jalapeño, lemon juice, salt, and pepper in a medium mixing bowl. Cover and refrigerate for up to 4 hours. Spoon it into a serving bowl. Right before serving, add the avocado and taste for seasoning.
In a large skillet with high sides, or a wok, over medium-high heat add 2 tablespoons of oil, swirling to coat the sides. When the oil is hot, add the beef strips and toss every 15 to 20 seconds for 3 to 4 minutes or until the beef is lightly brown. Remove to a side dish.
Add the remaining oil and the onion and toss for a minute. Add the peppers and jalapeño chile and toss every 15 to 20 seconds for about 4 to 6 minutes or until the onion is nicely softened. Add the garlic and tomatoes and cook another minute. Add the lime juice, cumin, cilantro, and reserved beef strips and bring to a boil for a minute. Add salt and pepper to taste and then transfer to a serving bowl.
Serve immediately with a basket of warm corn or flour tortillas and small bowls of the sour cream, cilantro, and salsa on the side.
Tasty Tip: To save time, pick up a container of fresh pico de gallo salsa and then add corn and avocado to it. Season to taste.
Diane Rossen Worthington is an authority on new American cooking. She is the author of 18 cookbooks, including "Seriously Simple Parties," and a James Beard Award-winning radio show host. You can contact her at SeriouslySimple.com. Copyright 2021 Diane Rossen Worthington. Distributed by Tribune Content Agency, LLC.