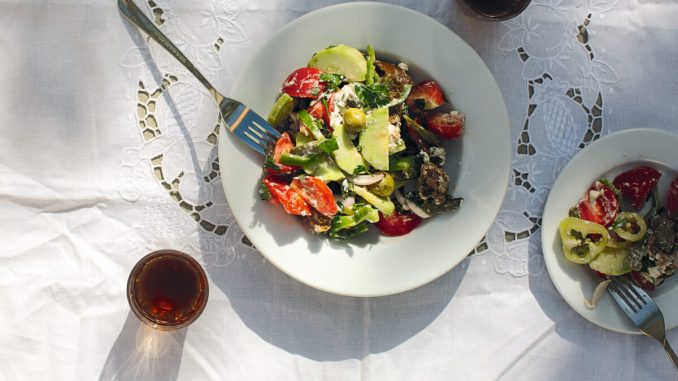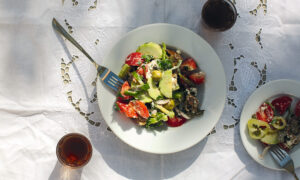 A Cretan salad is in fact very similar to the well-known Greek salad, but has mizithra—traditional goat cheese–or goat curds instead of feta, as well as broken Cretan barley rusks (paksimadia). Sometimes you may also find capers or caper leaves, purslane, and even a few leaves of basil. For me, this is one of the best salads to have with a meal, especially grilled fish, or even just make a big bowl and eat it with nothing more.
Finding Cretan barley rusks may not be the easiest thing unless you live close to a Greek deli. However, there are many alternatives you can use instead that are readily available on the market. Swedish crispbreads are a good alternative and can be easily found, but thickly sliced sourdough drizzled with olive oil and dried out in a preheated oven at 325 degrees F would be my choice.
Serves 4 to 6 as a sharing plate
3 medium, ripe red tomatoes, cut into bite-sized pieces
1 crisp cucumber, peeled, cut in half lengthways, and then into thin half-moon pieces
1 green pepper, halved and sliced
1 small red onion, cut in half and then into thin wedges
A handful of good-quality olives with pits (we use wrinkly black Greek olives)
1 tablespoon capers
1tablespoon chopped flat-leaf parsley
1 handful of purslane, if available, or arugula leaves, chopped
1 teaspoon dried oregano
4 small Cretan barley rusks (paksimadia) or 2 large ones, broken into bite-sized pieces
1/4 cup extra-virgin olive oil
3 tablespoons good-quality aged red wine vinegar
5 1/2 ounces Cretan mizithra (traditional goat cheese) or feta, crumbled
Sea salt, to taste
Combine all the salad ingredients in a bowl, apart from the cheese, and mix gently. Let it sit for a few minutes and then add the cheese. Mix once more and serve.
Recipe reprinted with permission from "Aegean: Recipes from the Mountains to the Sea" by Marianna Leivaditaki. Published by Interlink Books.